The fireworks came a night early for the Mets. The Amazin's completed game No. 81 -- reaching the midway point of their season at 44-37 -- by blasting the reeling Phillies, 11-1, Tuesday night before a Citi Field-record crowd of 42,516. Daniel Murphy (4-for-5) and David Wright each produced four RBIs and Jon Niese tossed a season-high eight innings in the series-opening victory. Niese also contributed a two-run single against Vance Worley.
"We're very pleased to be where we are," Terry Collins said. "The guys have played very hard. I think the most impressive thing is their resilience. After a bad night or a bad series or whatever we've had, they've been able to bounce back from it. But we've got 81 more to go."
The Mets will try to match their season high at eight games over .500 when Chris Young (2-1, 3.30 ERA) opposes winless left-hander Cliff Lee (0-5, 4.13) this afternoon.
Wednesday's news reports:
• Jordany Valdespin appears headed back to the Mets, sources told ESPNNewYork.com. Valdespin homered Tuesday for Triple-A Buffalo, a day after producing a four-steal game with the Bisons. It was not immediately certain who would be the roster casualty, but Kirk Nieuwenhuis was scratched from Tuesday's lineup after suffering a bruised right hand during batting practice. Andres Torres instead started in center field.
HALFWAY THERE
A look at the Mets after 81 games, the midpoint of the season, in recent years.
• Wright's three-run homer moved him past Howard Johnson for sole possession of third on the club's all-time homer list at 193. He also became the first player in franchise history to reach double digits in long balls in nine different seasons. Mike Piazza, Darryl Strawberry and Ed Kranepool each had eight seasons of 10-plus homers as Mets.
In support of Wright, Sandy Alderson took to Twitter for a second time in three days to take a jab at the selection of Pablo Sandoval as the NL's starting third baseman in the All-Star Game.
Alderson tweeted on Tuesday: ASG election of "Kung Fu Panda" shows the value of a cute nickname. Surprised Giants fans didn't elect a "ball dude" to start at 3B.
That followed a Sunday tweet in which Alderson wrote: Wright vs.Sandoval: A city of 8 million was outvoted by a city of 800,000.
Those jabs had been Alderson's first tweets from his account @MetsGM since April 12.
Read more on Wright's big Tuesday (and Alderson's tweeting) in Newsday and the Daily News.
• Meanwhile, retiring third baseman Chipper Jones has been added to the All-Star Game as a replacement for injured Dodger Matt Kemp, joining Sandoval and Wright.
• Murphy had two late shots at the cycle. And when bench coach Bob Geren brought up the possibility, Murphy quipped: "Not unless they let me hit it from second base," according to Conor Orr in the Star-Ledger. Read other game recaps in the Times, Record, Newsday, Daily News and Post.
• The Phillies dropped to 10 games under .500 for the first time since July 22, 2002. Writes columnist John Harper in the Daily News about floundering Philadelphia:
The Phillies look like a dead team that knows trades might be coming. At the very least, they may be digging themselves too deep a hole to climb out of, even with Chase Utley finally back from injury and Ryan Howard and Roy Halladay perhaps on the way as well. For that matter, I listened to Charlie Manuel talk on Tuesday about getting his injured stars back soon, perhaps making a big run in the second half of the season, and I thought I was hearing Jerry Manuel all over again, holding onto hope in 2009 for a turnaround that never came. It's hard to believe but, somehow, the Phillies and their all-world starting rotation have become the Mets of recent years, when whatever could go wrong usually did. And, no less unexpectedly, the Mets have become the Phillies of recent years, tough in the clutch, riding a wave of dominant starting pitching, including eight innings of brilliance from Jon Niese on Tuesday night.
Writes columnist Ken Davidoff in the Post:
In this upside-down National League East, the five-time defending divisional champions are looking like the broken team. The club that appears poised to dominate the trade deadline like the Mets did in 2011. The guys giving away good players -- Cole Hamels and Shane Victorino, in this instance -- and looking ahead to next year, in other words. ... It's a stunning development for an organization that had seemed to figure out everything. Sure, industry folks wondered if the big contracts (Howard, Cliff Lee, Jonathan Papelbon) and win-now trades (for Lee, Halladay, Roy Oswalt and Hunter Pence) would eventually haunt the Phillies. Not this soon, though.
• Following up on a report in the Post, David Lennon in Newsday wrote about a potential reunion with Brewers reliever Francisco Rodriguez: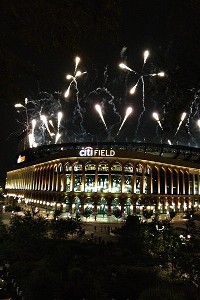 Courtesy of New York Mets
The largest crowd in Citi Field history was treated to a pre-July 4 fireworks display after Tuesday's rout of the Phillies.
Put it this way: they aren't against the idea, and a person familiar with the situation said Tuesday that Francisco Rodriguez is among the relievers currently being considered to add bullpen help. The New York Post first reported the Mets' interest in K-Rod, and it appears his past transgressions in Flushing won't get in the way of a possible reunion. Rodriguez, who earns $8 million this season on a one-year deal, is presently underperforming in a setup role for Brewers closer John Axford and might soon be available.
The Mets could probably get him by taking on most of the money -- down to $4 million by now -- rather than giving up a valuable prospect, something that Mets general manager Sandy Alderson is very reluctant to do.
K-Rod's former teammates say they would not object to a return. Josh Thole told Mark Hale in the Post: "The people outside don't know what kind of guy this guy is. He made one mistake." Said Tim Byrdak to the newspaper: "I never saw any of [the problems] when I was with him last year. Great guy. ... Nice guy to play with. He was a good teammate."
A team source, while not entirely ruling out acquiring a high-priced closer type, recently told ESPNNewYork.com that he did not foresee the Mets trading for another team's closer for setup duty. Of course, K-Rod doesn't exactly fit into that description anymore, since he has served as a set-up man for the past year.
Meanwhile, Tom Haudricourt in the Milwaukee Journal-Sentinel chronicles K-Rod's 2012 struggles. Writes Haudricourt:
Rodriguez, who earlier in the season pitched with an ailing leg and back but supposedly has felt OK of late, surrendered two runs on two hits, including a homer, in two-thirds of an inning [Tuesday]. He emerged with a 1.53 WHIP (walks and hits per inning), compared with a 1.138 WHIP in 31 appearances with Milwaukee after being acquired from the New York Mets in a mid-season trade. [Brewers manager Ron] Roenicke said it has been a matter of command for Rodriguez, who has issued 16 walks in 36 2/3 innings while allowing five home runs.
"His stuff, for me, is actually better," said Roenicke. "I don't know [why his command has been worse]. Some of it was the issue with the leg but he's been feeling pretty good lately, so I can't answer that. He's usually not wild with his fastball. This year, he's been a little more wild with the breaking ball. The breaking ball used to be automatic. When I saw him three years ago [with the Angels], it was curveball, slider and then an in-the-dirt slider whenever he wanted to. It's not that way now, but I don't know what the difference is."
• Jason Bay hit indoors and ran at Citi Field on Tuesday. He expected to head to the Mets' complex in Port St. Lucie, Fla., Thursday and potentially be activated from the disabled list in nine days, when the Mets reassemble after the All-Star break in Atlanta for the July 13 second-half opener. Read more on Bay's return from a concussion in the Record, Star-Ledger, Times and Newsday.
• Citi Field again will host soccer on Aug. 15, when Ecuador faces Chile at 8 p.m. Tickets, which begin at $30, go on sale Thursday at 10 a.m. at (718) 507-TIXX and at Tickets.com. Ecuador and Greece met at the stadium on June 7, 2011 and played to a 1-1 draw before an announced crowd of 39,656.
• Valdespin had an infield single that scored Raul Reyes in the bottom of the ninth for Buffalo to make a winner of Jenrry Mejia, despite the reliever allowing two runs in two innings. Read Tuesday's full minor league recap here.
TRIVIA: The Mets have four players with 40-plus RBIs (Wright, Ike Davis, Lucas Duda and Murphy). Name the only other NL team that can claim that distinction.
Tuesday's answer: The Phillies last finished in last place in the NL East in 2000, when they went 65-97 under manager Terry Francona.