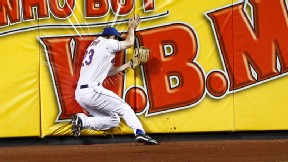 Debby Wong/US Presswire
Mike Baxter is making progress from the shoulder injury suffered in Johan Santana's no-hitter-saving catch.
Mike Baxter's recovery from a displaced collarbone is moving forward. Baxter told ESPNNewYork.com on Wednesday morning that he was heading to the Mets' Port St. Lucie, Fla., complex later in the day.
Baxter said he has full range of motion in the shoulder and has started hitting off a tee, "so it's coming along pretty well."
He has yet to run, and does not expect to immediately see live pitching when he arrives in Florida.
Doctors originally had predicted a six-week recovery time from the June 1 injury,which Baxter suffered making a no-hitter-saving catch for Johan Santana.
Meanwhile, Jason Bay reiterated Wednesday morning that he expects to head to the Mets' Florida complex no later than Friday.