Terry Collins said it was impossible to forecast Chris Young's seventh-inning unraveling in what became a 9-2 loss to the Phillies on Wednesday at Citi Field. Young entered the inning at 67 pitches, working on a scoreless effort.
"Seven pitches later we're behind 3-2," Collins said, referring to homers by Chase Utley and Carlos Ruiz. "I'm not sure we could have done much else except try to fight back. ... It's really easy after a guy gives up three runs to say, 'Well, you should have taken him out,' or 'the third time through the lineup ...'
"There was nothing that dictated that they were taking good swings at him. He was cruising pretty good. And I wasn't sure who to put in there at that particular time. We could have went to [Tim] Byrdak, I guess. You don't see [Juan] Pierre. You end up seeing [Ty] Wigginton anyway. We just thought he was still in good shape."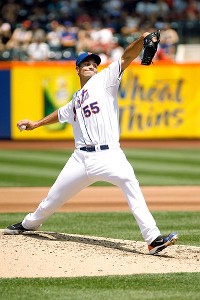 Debby Wong/US Presswire
Chris Young took a scoreless effort into the seventh, when his outing unraveled.
As for Young's season-long trend of giving up more damage once he reaches the third time through the opposing lineup, Collins suggested Young -- a fly-ball specialist who pitches up in the zone -- has tended to miss down a few times at that point in the game, and has been punished for it.
Young was not sure what to make of the numbers suggesting he struggles the third time through the lineup -- or whether those are statistically significant.
"I don't know. Time will tell," Young said. "I felt good. I made good pitches after that. I got the next three guys out. It's one of those things where I would like to execute a little better. My last two home starts I've given up runs in the seventh inning that have cost us. I'd like to be better at that point in the game. And I think I will be as the season progresses. It's my sixth start after missing a year from surgery. There's certainly room for improvement. I've done some things well, but I'm not satisfied. And that's one of the things I want to improve on.
"Ruiz is one of the league leaders in average, and Utley, he's Utley, a perennial All-Star," Young added. "You don't execute to those guys and they can punish you, and it turned around quickly. ... One of my strengths is attacking up in the zone. The pitch to Utley was probably middle height-wise. The ball Ruiz hit was more up than down. I had gotten him to fly out on similar pitches, and he jumped on it. Really, the pitch I wish I had back was to Pierre that led off the inning with a hit. That was one that was down that I should have gone up."
Utley now has six homers at Citi Field, tied for most by a visiting player with Raul Ibanez.
DAY-TO-DAY: Kirk Nieuwenhuis avoided the DL after testing his injured right hand swinging before Wednesday's game. Jordany Valdespin temporarily was promoted as a hedge against Nieuwenhuis being unavailable, but went unused. "We'll see how he is tomorrow, but we don't have to disable him," Collins said. "... I'm sure in a couple of days we'll end up coming up with another pitcher."
JUST LOOKING: David Wright expressed his disapproval to plate ump Tim Timmons after striking out in the eighth. Wright was one of seven Mets called out on strikes. "It's baseball," Wright said. "You have disagreements quite frequently. Obviously you have differences of opinions here and there, especially when it's kind of a frustrating game -- having the lead and losing it -- and knowing when Cliff Lee is on the mound that you've got to be pretty close to perfect offensively and defensively. And we let it slip away a little bit. So it's just some overall frustration."
SURGE: Ruben Tejada went 2-for-4 and is hitting .395 in 10 games since returning from the DL.