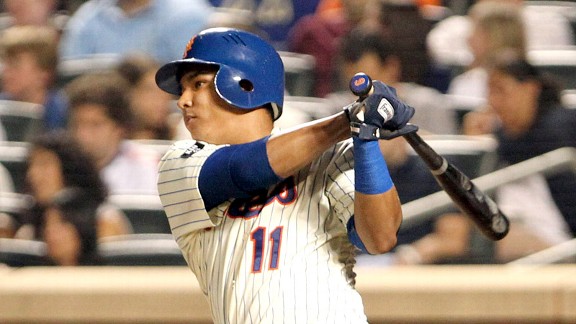 Anthony Gruppuso/US Presswire
Ruben Tejada's improvement with two strikes has been a key for the Mets.
David Wright may have been the Mets MVP in Thursday's win, but the unsung hero was shortstop Ruben Tejada.
Tejada has had a nice offensive run since his return from injury, though Thursday it was a walk and not a hit that kept the two-out ninth-inning rally going.
Tejada has 11 walks in 169 plate appearances this season, but he knows how to battle in an at-bat. His walk on a borderline 3-2 pitch from Jonathan Papelbon wasn't the first time he came through in such a tough spot.
From the department of having fun with small sample sizes, we can create a stat that shows just how good Tejada is in these types of moments. First, let's narrow the criteria down to the following:
- Mets tied, trailing by a run, or trailing by two runs
- Eighth inning or later
- Tejada at the plate, facing a count of 3-2
When we do that, Tejada's performance is pretty amazing, albeit perhaps a bit fluky. He's faced that scenario 13 times in his career and reached base in 11 of them -- eight times on walks.
The average major leaguer gets on base a little less than half the time in such situations, meaning he'd probably reach six of 13 times, instead of Tejada's 11. Such success may not be sustainable, but it is impressive nonetheless.
Tejada has taken 18 swings in those situations and fouled the ball off 13 times, gotten hits on three others, grounded out once, and missed once (for a strikeout).
The most notable of those moments, prior to last night, was a two-run double for the game-tying hit in a rally from four runs down in the ninth inning against the Cardinals last September.
Since then he's had six turns in such situations with five successes, those coming against the likes of Brad Lidge, Aroldis Chapman, and now Papelbon.
Mets OBP with 2 Strikes
Notables Since Start of 2011
Within a larger scope, Tejada has made significant improvements to his plate approach over the last two seasons. After his recall in 2010, Tejada was a free-swinger with two strikes, particularly late in games. But he's since succeeded.
Tejada's on-base percentage in any two-strike situation in the last two seasons is .337. The only player in baseball higher is Blue Jays slugger Jose Bautista, at .340.
Some of that may be a product of the pitcher hitting directly behind Tejada, but if we isolate only plate appearances from the first seven spots in the lineup, his .323 two-strike on-base percentage since 2011 ranks 14th-best out of nearly 350 players with at least 100 two-strike plate appearances.
So the next time Tejada comes up in a spot similar to the one last night, there's no reason for a Mets fan to panic. Tejada certainly won't.