Johan Santana matched a career high by allowing 13 hits and a furious Mets comeback bid narrowly fell short as the Cubs held on for an 8-7 win Friday at Citi Field.
A night after dramatically rallying in the ninth against Philadelphia's Jonathan Papelbon, the Amazin's nearly overcame a four-run deficit in the final frame against Cubs closer Carlos Marmol. Jordany Valdespin homered, Marmol walked three straight batters and Ike Davis delivered a two-run single to pull the Mets within one with two runners on base. However, Lucas Duda hit into a game-ending double play when Marmol snared a line drive and caught Davis straying from first.
"We had a chance, for sure," Davis told reporters postgame. "We gave ourselves an opportunity to do it, but it was just bad baserunning by me and a great play by the pitcher. I maybe should have froze. … But I thought it was going to drop in front of the second baseman and I was thinking about breaking up two."
The Mets look to regroup today when Dillon Gee (5-7, 4.34 ERA) faces right-hander Jeff Samardzija (6-7, 4.77) at 4:10 p.m. Gee lasted a season-low five innings while surrendering four earned runs on nine hits and two walks in Chicago on June 26.
Saturday's news reports:
• Santana's outing combusted in the fifth, after Reed Johnson opened the inning by stepping on Santana's right ankle, which the southpaw already had awkwardly twisted covering first base on the play. Terry Collins said Santana told him the contact left him uninjured, and any ensuing struggles merely were the result of poor fastball command. Still, Santana said postgame the ankle remained sore. Whatever the case, Santana surrendered five runs in the frame, including a three-run homer to Anthony Rizzo and solo shot by Jeff Baker.
"I twisted it and he stepped on it, but when that happened I wasn't thinking about it," said Santana, who is expected to get the second-half-opening start in Atlanta next Friday. "... I don't think it will be a big deal."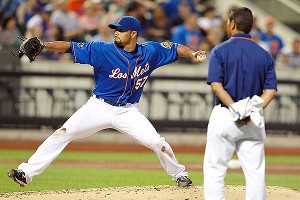 Mike Stobe/Getty Images
Trainer Ray Ramirez observes Johan Santana after the southpaw's ankle twisted, then was stepped on by Reed Johnson at first base in the fifth inning.
Santana was charged with seven runs in 4 2/3 innings a night after R.A. Dickey against Philadelphia surrendered five runs in seven innings. The duo had started back-to-back games for the Mets 29 times since the knuckleballer's promotion in May 2010. It marked the first time they each allowed at least five earned runs while working consecutive games. (On April 17 of this season, Santana allowed six runs, but four earned, at Atlanta. Dickey then allowed eight earned runs the following day in the rain at Turner Field.)
Like with the first two games at Wrigley Field after an emotional series against the Yankees, the Mets dropped a game to the Cubs again after a spirited series, this time against Philadelphia. In Friday's loss, Justin Turner did match a career high with four hits. And David Wright produced his 27th double, tied with Kazuo Matsui (2004) for the second most in franchise history before the All-Star break. Carlos Beltran has the Mets' first-half record with 28. The Mets dropped to 12-20 this season in games started by a left-handed opposing pitcher. The 18 hits surrendered by the Mets was one shy of the most they have allowed this season, which came at Colorado on April 27 during an 18-run barrage by the Rockies.
Read game recaps in the Record, Times, Star-Ledger, Newsday, Post and Daily News.
• Mike Puma in the Post reports the Mets plan to promote lefty reliever Josh Edgin from Triple-A Buffalo early in the second half. Edgin was a highlight of spring training. Originally not even in big league camp, he ultimately tossed 10 1/3 scoreless Grapefruit League innings and officially joined the big league side when Tim Byrdak seemed like he might miss Opening Day because of surgery to repair torn meniscus cartilage. Read a recent ESPNNewYork.com farm report on Edgin here.
• Jason Bay and Frank Francisco should return for the second series of the second half, at Washington. Bay should appear in his first game with Class A St. Lucie on Sunday since he suffered a concussion on June 16. He also should play later in the week for Triple-A Buffalo before being activated. Francisco (left oblique strain) is due to throw off a mound today and likely will make four subsequent minor league appearances before rejoining the Mets. Read more in the Post, Star-Ledger, Record and Newsday.
• Wright, Dickey and Collins received their All-Star jerseys during a Friday pregame ceremony.
• Dickey was recognized Friday as ABC News' "Person of the Week."
• If NL manager Tony La Russa was holding Dickey back from starting the All-Star Game because Yadier Molina was most equipped to catch the knuckleballer, that's no longer a factor, since Molina will not attend the All-Star Game. Molina landed on the bereavement list because of the death of his wife's grandfather. He has been replaced on the NL squad by Cardinals teammate Matt Holliday, an outfielder. If La Russa is opposed to NL starter Buster Posey catching Dickey, Philadelphia's Carlos Ruiz also is on the squad as a non-starter.
• Andres Torres remained out with back spasms that should sideline him for the remainder of the Cubs series. Still, Torres will avoid the DL, according to Collins. Torres said he hurt himself swinging during Wednesday's game while facing Philadelphia's Cliff Lee. Kirk Nieuwenhuis went 0-for-3 with a walk Friday and is now in a 5-for-42 rut. But Collins resolved to stick with Nieuwenhuis in the lineup Saturday.
• The independent Long Island Ducks announced the signing of ex-Met Timo Perez. Perez, 37, last appeared in the majors in 2007 with Detroit. he spent last season at Triple-A Toledo in the Tigers organization. He joins Armando Benitez with the Atlantic League team. Benitez has allowed nine earned runs in 7 2/3 innings spanning eight appearances. Former Mets farmhands Eric Niesen and Jeremy Hill also pitch for the Ducks. Read more in Newsday.
• Ryan Dempster is due to return from the DL for the Cubs to start Sunday's first-half finale opposite Jon Niese. Dempster has been out for three weeks with a sore right shoulder. Paul Sullivan in The Chicago Tribune notes Dempster will be capped at 70 to 80 pitches. A clear-cut trade candidate before the July 31 deadline, Dempster's 2.11 ERA would lead the NL, but his 81 innings fall two shy of qualifying. Writes Sullivan:
The Cubs are shopping him after Dempster agreed to waive his no-trade rights to go to a contender. The Dodgers, Yankees and Braves are among the teams said to be interested, and more rumors are bound to crop up. "That's OK," he said. "They've been there. They don't bother me." Dempster insisted he hasn't thought about the possibility this could be his final start as a Cub, saying, "I can't control those things." With Dempster back, Chris Volstad is likely to be sent back to Triple-A Iowa.
• Jeurys Familia tossed a season-high 6 1/3 innings and earned his first win in exactly a month, while Jenrry Mejia contributed two scoreless relief innings and Chris Schwinden made his first Buffalo appearance since May 27 in Buffalo's 5-1 win against John Lannan and Syracuse. In Brooklyn, Florida State product Jayce Boyd delivered his first professional homer, a two-run shot, and 2011 first-round pick Brandon Nimmo followed with a game-tying RBI single later in the seventh that forced extra innings. The Cyclones ultimately won, 7-6, in 11 innings on a bases-loaded walk to Richie Rodriguez. Nimmo, by the way, had a 20-minute phone conversation Thursday with Hunter Pence, whom Nimmo reveres. The chat was arranged by Cyclones manager Rich Donnelly, whose son went to high school with the Phillies outfielder. Read the full minor league recap here.
Mejia, despite Friday's positive outing, has a 8.18 ERA in nine relief appearances. Bisons manager Wally Backman tells Andy McCullough in the Star-Ledger: "I know that everybody wanted to get him there quick. And his stuff is good enough. His command is not, in my opinion." Writes McCullough about Mejia moving to relief from a starting role earlier this season:
He lost the refuge of his daily routine. "When they moved me," Mejia said, "I didn't feel too comfortable. Because sometimes I'd be tight or something like that." Backman noted that Mejia has begun to throw with "max effort" as a reliever. While starting, Mejia allowed his fastball to sit around 92 mph. Now he ignores preservation in favor of intimidation with velocity. The result is an inability to spot the cutter. "If you don't command it, 100 mph gets turned around, too," Backman said. "Bobby Parnell found that out a few years ago."
• Collins credits the Mets' togetherness and camaraderie for a lot of their ability to rally late in games, according to J.P. Pelzman in the Record. "If somebody gets pinch-hit for, or you've got to bring a guy out of the bullpen, the fact that they're absolutely behind each other helps a lot," Collins said. "Nobody is mad. Nobody is frustrated. They know somebody else has got to pick us up."
• ESPN Stats & Information's Mark Simon chronicles Ruben Tejada's patience at the plate., including a .337 on-base percentage in two-strike situations entering the weekend, second in the majors only to Jose Bautista's .340 with Toronto. Andrew Keh in the Times also delves into that topic.
• Scott Hairston is relishing his role as a lefty masher. He hit his ninth homer against a southpaw this season on Thursday against Cole Hamels, giving him the NL lead, one better than Milwaukee's Ryan Braun. The Mets are unlikely to be sellers at the deadline -- buying is more like it -- but Hairston would be a hot commodity if the Amazin's made him available. Writes Jared Diamond in the Journal:
Hairston always hit lefties significantly better than righties: .278 versus .224. Like all right-handed batters, he sees the ball longer against lefties, and he attributed much of his success this year to that. While Hairston still believes he can contribute against all pitchers, he came to realize as his career went by that he could help a winning team best by serving as a platoon player. It just so happens that he hits so well against lefties that he platoons into one of the most crucial spots in the Mets' lineup. "At the start of my career when I'm 23 years-old, I viewed myself as a starter," Hairston said. "Then the role changes, but hey, I'm embracing it."
TRIVIA: For which two major league teams did Dempster pitch before joining the Cubs?
Friday's answer: David Wright's eight career games delivering a walk-off RBI are tied for the franchise record with Kevin McReynolds.