Terry Collins summed up the four-run first inning against Jon Niese simply: The southpaw, Collins said, threw too many pitches in the middle of the plate.
In the end, the Mets did not score anyway in a 7-0 loss to the Cubs on Sunday. Niese ultimately surrendered seven runs, one shy of matching his career high, in seven innings. The late damage came on a three-run homer in Niese's final frame by Starlin Castro.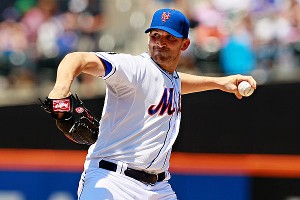 Mike Stobe/Getty Images
Jon Niese surrendered seven runs in the first-half finale.
"As the game went along, we pretty much realized the strike zone was pretty good today," Collins said about the liberal nature of plate umpire Doug Eddings' strike calls. "Obviously he was way too much on the plate -- too many balls in the middle of the plate. He was trying to get ahead. They were hammering the first pitch."
Collins said one primary goal for the second half for Niese is to keep him on the field. Niese's final start last season came on Aug. 23, after which he was shut down with a strained muscle on his right side. In 2009, Niese's season ended Aug. 6 with a torn hamstring tendon.
Niese confirmed he still intends to have the surgery known as ablation to address an occasionally rapid heartbeat after the season, not during the All-Star break, which was first discussed. He will start the third or fourth game of the second half, depending on how the Mets elect to use Johan Santana.
After signing a five-year, $25.5 million contract on the eve of the season, Niese finished the first half with a 7-4 record and 3.73 ERA.
"Believe me, if Jon Niese stays healthy in the second half, he puts up seven eight more wins, that's a pretty nice year for him," Collins said. "And I think he will. Again, he had a real bad first inning that set the tone for everything. And then we didn't give him any help. But I think Jon has been pitching very good. He's had a good first half to the season."
Said Niese: "I thought I made a lot of good pitches. When I had guys in scoring position, I made mistakes and they punished it."