US Presswire/Tim Farrell
Johan Santana's June 1 no-hitter certainly was cause for celebration.Here's a ranking of 10 memorable moments from the first half of 2012, with write-ups largely as they appeared on those days.
Obviously, Johan Santana's historic no-hitter -- the first in franchise history -- ranks No. 1. So what's your next favorite?
10. FRACTURED HOPE, April 14: Broken pinkie? Idle for four days? No problem. David Wright pounced on the first pitch he saw in his return to the lineup, sending a first-inning offering from Vance Worley over the center-field wall for a 428-foot homer in his return as the Mets beat the Phillies, 5-0. Wright avoided the DL and played through the fracture while unexpectedly missing minimal time.
9. BELL RUNG, April 26: Kirk Nieuwenhuis hit a walk-off RBI single with two outs in the bottom of the ninth inning as the Mets swept the Marlins. Ex-Met Heath Bell walked four of the first five batters he faced and forced in the tying run with a 13-pitch free pass to Justin Turner. Bell threw 46 pitches in the ninth.
8. OPENING ACT, April 5: Santana successfully returned after missing the 2011 season while recovering from surgery to repair a torn anterior capsule in his left shoulder. And the Mets again were winners on Opening Day, improving their MLB-best mark to 33-18 in season openers, thanks to an RBI single from Wright and clutch relief from Tim Byrdak only 23 days after undergoing surgery to repair a torn meniscus in his left knee. The Mets beat the Braves, 1-0.
7. CHICKEN DELIGHT, June 22: Frank Francisco labeled the Yankees "chickens" before the Subway Series opener at Citi Field. He ended up getting a save in the opener, in a 6-4 win. Things got weird, though, when Byrdak had a clubhouse attendant purchase a chicken in Chinatown for $8. Byrdak had the bird running around the Mets clubhouse. The good-luck chicken, dubbed "Little Jerry Seinfeld," eventually found a home at an upstate sanctuary.
6. RAY OF HOPE, June 12-14: The Mets answered getting swept in the Subway Series in the Bronx in resounding fashion. The Amazin's scored 29 runs in a three-game sweep of the Tampa Bay Rays, who had led the American League with a 3.40 ERA entering the series. The Mets -- who scored 11, nine and nine runs -- last posted at least nine runs in three straight games in 2006. They last did it consecutively in the same series back in 1990, when they scored 43 runs in the final three games of a four-game set against the Chicago Cubs.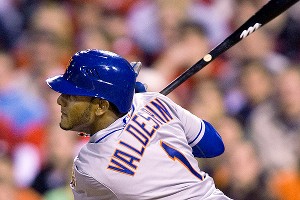 Howard Smith/US Presswire
Jordany Valdespin's first major league hit was a game-deciding homer against Phillies closer Jonathan Papelbon on May 7.
5. PAPEL-BUMMERS, May 7 & July 5: Omir Santos … again? Phillies closer Jonathan Papelbon, who had not allowed a hit in the last 18 at-bats against him entering the series, surrendered a one-out walk to Ike Davis, two-out double to Mike Nickeas, then a three-run homer to pinch hitter Jordany Valdespin in the top of the ninth inning to lift the Mets to a 5-2 win on May 7 at Citizens Bank Park. Then, July 5, also against Papelbon, Wright blooped in the game-winning single with two outs. It was Wright's seventh-career game-ending hit and first since Aug. 7, 2008 (a home run). The third baseman finished with three hits -- including a homer -- and four RBIs.
4. CATCH 23, June 1: He struggled to put on his shirt in front of his locker, the pain of a crash into the left-field wall still reverberating through his left shoulder. The crash, which followed a catch that proved to be the biggest defensive play in preserving Santana's no-hitter, knocked him from the game, forcing him to watch the final innings in the training room and bringing on a litany of tests. The crash resulted in the best sore shoulder Mike Baxter has ever suffered in his 27 years. "Absolutely," Baxter said. "I'll take it any day of the week."
3. GENTLEMAN'S AGREEMENT, March 19: The owners of the Mets settled with trustee Irving Picard for $162 million, their alleged profit from certain Ponzi scheme funds in the six years before Bernard Madoff's arrest. In reality, Fred Wilpon and family will be on the hook for only a fraction of that amount -- and will not be required to make any payments until 2016 and 2017. That's because, as part of the settlement, the Wilpons will be able to apply to the trustee to be reimbursed for $178 million in losses from certain funds.
2. ZEROES, June 13: R.A. Dickey ran his scoreless streak to a franchise-record 32 2/3 innings before Wright's ninth-inning error, a pair of passed balls from Nickeas and an RBI groundout ended the run. Dickey nonetheless passed previous record-holder Jerry Koosman (31 2/3 innings in 1973) as the Mets beat the Rays, 9-1, at the Trop. Dickey retired 22 straight batters at one point in claiming his 10th win.
1. NO-HAN: After more than a half-century and 8,020 games, Santana pitched the first no-hitter in New York Mets history. Aided by an umpire's missed call and an incredible catch by a left fielder who grew up in Queens as a Mets fan, Santana's start is also the first no-hitter of his career. Mets manager Terry Collins said before the game that he wanted to limit Santana to a maximum of 110-115 pitches. Santana finished with a career-high 134. Afterward, an emotional Collins expressed his wariness about going after history instead of preserving Santana's long-term health.