After the NL All-Stars beat their AL counterparts Tuesday in Kansas City, Citi Field now officially is on the clock for the 2013 All-Star Game.
The Mets reassemble to hold an afternoon workout Thursday in Atlanta. Today, Jason Bay (concussion) and Frank Francisco (oblique) may begin rehab assignments with Class A St. Lucie at Tampa.
The Triple-A and Double-A All-Star Games also will be held today. Matt Harvey is due to pitch second for the International League All-Stars in Buffalo in the Triple-A contest.
R.A. Dickey is due to appear with David Letterman tonight. Dickey tweeted: "I'm bringing a mask and [Josh] Thole's glove in case he wants to catch a few. Fun!!"
Wednesday's news reports:
• Dillon Gee remains hospitalized after doctors discovered hand numbness and coldness was being caused by a blood clot in his pitching shoulder. A catheter was used to break up the clot, the Mets announced. Gee will remain hospitalized for a couple of days to ensure the immediate danger is behind him.
"My concern is obviously what the rehabilitation time is going to be," Terry Collins told reporters in Kansas City. "Is he going to miss a month? Is he going to miss two months? Is he going to miss the rest of the season? So we can start to move forward with whatever move we need to make."
The Mets placed Gee, who had been scheduled to start Friday's second-half opener, on the disabled list. Instead, Chris Young is now scheduled to start Friday in Atlanta, followed by Dickey on Saturday. Johan Santana will test his balky right ankle Thursday during a Mets workout at Turner Field, after which it should be determined whether he faces the Braves on Sunday or the Nationals in D.C. on Tuesday. Jon Niese will get the other start. The Mets can go back to Young on Wednesday in Washington if he feels capable, delaying the use of a fifth starter until as late as July 21 against the Dodgers at Citi Field. Ultimately, though, Collins said Miguel Batista will handle Gee's role for now. Collins said he did not want to promote Harvey before he is ready and put him in a position to fail.
The Mets will promote a reliever to take Gee's roster spot. Lefty Josh Edgin appears a logical choice, since Sandy Alderson has said he is due to be promoted soon anyway. Collins said team officials likely will convene Wednesday to discuss who should get the call-up. Robert Carson would be an alternative.
Teammates expressed concern for Gee. Justin Turner tweeted: Appreciate all the concern for Gee, we are worried too. Please keep him in your thoughts and prayers
Gee's medical troubles hit home with Bobby Parnell. Parnell experienced numbness/tingling in his fingers last April, but had a relatively minor issue compared with his teammate Gee. Parnell merely was prescribed baby aspirin after undergoing an angiogram. He never required surgery to break up a clot. "It's scary, Parnell told Anthony DiComo at MLB.com. "Not knowing what's going on inside your body is the worst part. Not being able to control it is the worst part."
Dr. Sharif Ellozy, a vascular expert and associate professor of surgery at The Mount Sinai Hospital, told ESPNNewYork.com the length of Gee's absence may be contingent upon whether there is damage to the artery in the shoulder. "The fact that he's a pitcher and that it was in the arm that he was pitching from, you suspect there may be some injury [with the artery] where it goes between the clavicle and the first rib in that arm," Ellozy said. "How soon he'll be able to return depends on what they find."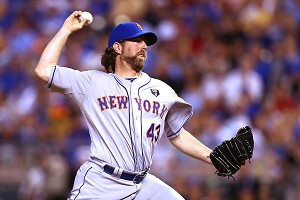 Jonathan Daniel/Getty Images
R.A. Dickey allowed a pair of baserunners, but tossed a scoreless inning in his first All-Star Game.Writes Brian Costa in the Journal:
Dr. Lawrence Gardner, the acting co-director of hematology at NYU Langone Medical Center, said arterial clots are generally more serious than those found in veins because they can restrict the flow of blood to muscles and vital organs. The fact that doctors had to insert a catheter, rather than merely putting Gee on blood thinners, indicates that it was more than just a minor issue, Gardner said. According to Collins, doctors are trying to determine how much shoulder damage the clot caused. "His hand was ice cold," Collins said. "No blood flow in there."
The seriousness of blood clots among pitchers has varied widely. Mets reliever Bobby Parnell went on the DL with a clot in his right middle finger last season, and though it required only blood thinners to treat, he still was out more than a month. Detroit Tigers pitcher Jeremy Bonderman missed the last four months of the 2008 season after doctors found a clot in a vein in his pitching shoulder. And he continued to have shoulder problems in 2009.
Read more in the Star-Ledger, Newsday, Times, Daily News, Record and Post.
• Dickey eventually entered the All-Star Game in the sixth and surrendered a hit and plunked a batter, but he coaxed a double-play grounder from Miguel Cabrera and escaped the inning unscathed in what ended as an 8-0 NL victory. Carlos Ruiz, who caught Dickey, got through the knuckleball receiving fine while using Thole's oversized mitt. David Wright, meanwhile, replaced Pablo Sandoval and went 0-for-2. Collins, who was a coach on Tony La Russa's staff, made a ninth-inning pitching change. Read more in Newsday and the Daily News.
• Union chief Michael Weiner confirmed Tuesday that interleague matchups between natural rivals -- including the Mets and Yankees -- will be limited to three or four games a season going forward, not six. The exception will be in years when, for instance, the AL East and NL East line up to play. In those seasons, a six-game, home-and-home slate will still be played. Read more in Newsday.
• After being claimed off waivers four times in a five-week span, most recently by the Mets from the Yankees last week, Chris Schwinden finally cleared waivers. So he is now officially with Triple-A Buffalo as a non-40 man roster player.
• Savannah, the organization's lone minor league affiliate in action Tuesday, blanked Delmarva 2-0 behind a complete game from 2011 third-round pick Logan Verrett. Read the minor league recap here.
• Mike Sielski in the Journal speaks with 19-year-old Brandon Nimmo, the Mets' first-round pick in 2011, who is playing for the Brooklyn Cyclones. On Mike Trout and Bryce Harper being in the majors at his age, Nimmo said: "Even though I think I'm a great athlete and I'm good at baseball, those guys are different, and I have to realize that. For normal high-school guys, it takes four years or so. Twenty-three years old in the majors, you're still young."
TRIVIA: Who did Pedro Martinez oppose in Atlanta, in his second start as a Met in 2005?
Tuesday's answer: Although it has not been formally announced, MLB plans to award the 2014 All-Star Game to the Minnesota Twins.