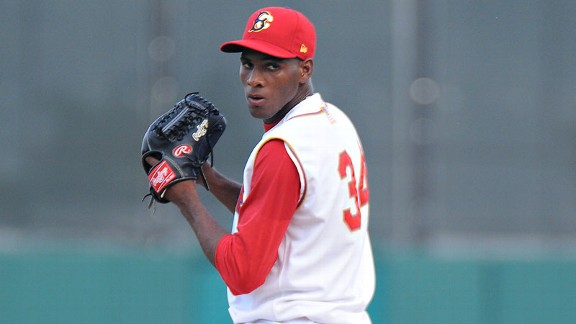 Courtesy of Brooklyn Cyclones
Through four starts, Luis Mateo leads the New York-Penn League in strikeouts.
Right-hander Luis Mateo's 1.90 ERA is tops among Mets minor leaguers who qualify for their league title. His three wins and 30 strikeouts for Brooklyn both lead the New York-Penn League.
So where did the 22-year-old Mateo come from before signing with the organization last year and making 13 starts in the Dominican Summer League in 2011?
"It's a long story, and there's still a lot to tell," Mateo said through an interpreter in the Cyclones dugout last week at Coney Island. "It's a business, and it's going to be a while before I hope my story is complete."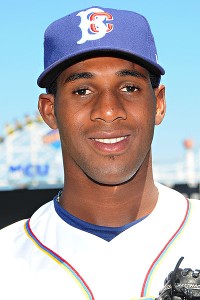 Courtesy of Brooklyn Cyclones
Luis Mateo
Mateo signed with the San Francisco Giants organization on July 2, 2008 for $625,000. But, he recalled, team medical personnel did not like something in his elbow on a physical once he arrived in Arizona. A month later, they voided the contract, even though Mateo said he was examined by Angels doctor Lewis Yocum in Los Angeles and nothing alarming was detected.
"They seemed that they weren't pleased with my physical, so I went and saw another doctor in Los Angeles who disagreed with the opinion in Arizona," Mateo said. "And my agent and the Giants kind of had a falling out. So they terminated the contract."
Mateo then was listed as having been born on March 17, 1992. He acknowledged subsequently serving a one-year suspension because the U.S. consulate in his native Dominican Republic flagged his paperwork. The Mets now list his date of birth as March 22, 1990.
What did Mateo do between the deal fizzling in 2008 with the Giants and finally signing with the Mets organization last year for a reported $150,000?
"I was working out, and I pitched in some local tournaments and kept on working hard," Mateo said. "And then I pitched in the Colombian winter league one year. … I basically spent the two years with a guy who used to train me. I threw my bullpens. And whenever there was an opportunity for a tournament, I'd go pitch in those games."
And how did the Mets find him?
"I came and did a tryout at the Mets complex in the Dominican," he said. "They saw me. They liked me. And the Mets were the ones that encouraged me to go play in Colombia during my one-year suspension."
With the Cyclones, Mateo is 3-1 with a 1.90 ERA. He has allowed 14 hits and two walks while hitting two batters and striking out 30 in 23 2/3 innings. Mateo's fastball sits at 93 mph and tops out at 97 mph. His four-pitch arsenal also includes a slider, sinker and changeup.
As for his three-year wait for a second chance, Mateo said: "It is hard in some ways, but I like to use a saying in Spanish that says the one that goes along with God, he's never fallen. He's always in the battle -- still in it."
LOOK FOR PART II OF THE FARM REPORT AT NOON, WITH ORGANIZATIONAL STATISTICAL LEADERS AND PLAYER NOTES.
Adam Rubin's farm report appears Wednesdays during the regular season