Baseball is nearly back. The Mets will hold a workout today at Turner Field in Atlanta at 4:15 p.m. to get back into the swing for Friday's second-half opener, which now pits Chris Young against Tim Hudson.
Johan Santana is expected to throw a bullpen session to test whether his twisted right ankle is ready to perform Sunday, potentially against ex-Brewer Ben Sheets. Otherwise, Jon Niese would pitch the finale against the Braves and Santana would wait until Tuesday in D.C.
In Tampa, Jason Bay (concussion) and Frank Francisco (oblique) are expected to make a second attempt at beginning a rehab assignment for Class A St. Lucie. Wednesday's Florida State League game was rained out.
Thursday's news reports:
• Dillon Gee plans to undergo surgery Friday at Barnes-Jewish Hospital in St. Louis to repair damage to an artery in his shoulder. Gee was discharged on Wednesday after being hospitalized in New York for two days with a blood clot in his shoulder, which doctors believe they successfully dissolved using a catheter. The surgery in St. Louis should prevent the recurrence of clots and give Gee a healthy long-term prognosis, as well as allow him to pitch without issue from the get-go in 2013. As for this season, Gee most likely is done. Still, he may begin throwing in as soon as six to eight weeks, so a return in late September (or if the Mets are in the postseason in October) is not entirely out of the question. Read more in the Journal, Post, Star-Ledger, Daily News, Record, Times and Newsday.
• Before the resolution by Gee to undergo Friday's procedure, Terry Collins indicated Miguel Batista would assume Gee's rotation spot, at least for the short term. That turn can wait until as late as next Saturday before being required, because the Mets have an off-day after the series in Atlanta.
Collins has not weighed in since the latest Gee development, regarding Friday's surgery. But there is zero reason to believe that changes the resolution to use Batista the first time that spot comes up. Down the road, now, the Mets will have to more strongly consider Matt Harvey, or identify another candidate.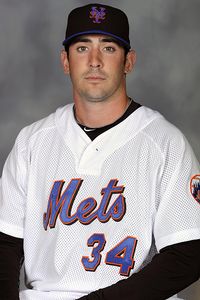 Courtesy of New York Mets
Matt Harvey
Harvey continues to maintain, as he has since spring training, that he is ready for major league duty. Scouts say Harvey needs more refinement, though, noting his fastball up in the strike zone will not have the same success against major league hitters. They also express concern that his reluctance to use a changeup at times will make it easier for advanced hitters to sit on the fastball. Writes Andy McCullough in the Star-Ledger:
Before this week, the Mets were content to give Harvey more time to mature. In an ideal world, explained Paul DePodesta, the club's vice president for scouting and player development, "we want our young players to force their way on the team." Harvey has not reached that point, even after he pitched two hitless innings in the Triple-A All-Star Game last night. Club officials cited a need to improve his efficiency and consistency. In an ideal world, he'd spend the majority of this season with Buffalo. "We're pretty committed to trying to do this right," DePodesta said last week. "Trying to do the right thing for the long term." Except this world is not ideal. Tomorrow morning, Gee will undergo a second procedure to repair the damage done by a blood clot in his right shoulder.
Buffalo manager Wally Backman told McCullough: "For me, he's still not quite there. But he's close."
Said Harvey: "If in your mind you don't believe you're ready, and don't believe you belong, then you probably don't. For me, every time I pick up a baseball, I feel like I'm ready."
Writes columnist John Harper in the Daily News:
The time and circumstances, then, appear to be right to give Harvey a shot. For the moment, however, the Mets aren't ready to make that move, club sources said on Tuesday. They like the way Harvey is progressing, but GM Sandy Alderson is determined not to rush any of his young pitching prospects. That's a reasoned and prudent approach, particularly for an organization that may still be paying for foolishly rushing Jenrry Mejia two years ago.
But Harvey, by all accounts, is a mature 23-year-old who has spent significant time in Class A, Double-A, and now Triple-A since the Mets made him their first-round draft choice out of the University of North Carolina in 2010. At Buffalo he is 7-3 with a 3.39 ERA and a mid-90s fastball, and Backman thinks Harvey has progressed enough to hold his own in the big leagues. "He'll take a lump or two if they call him up," Backman said by phone on Tuesday. "But his fastball command is much improved. He can help them."
• Rookie Josh Edgin will take Gee's roster spot in Atlanta, joining workhorse Tim Byrdak as a second southpaw option in the bullpen. Edgin's promotion should better gauge for Sandy Alderson how aggressively the GM needs to acquire bullpen help before the July 31 deadline -- assuming the Mets capably navigate this next stretch of games: at Atlanta, at Washington, vs. the Dodgers, vs. the Nats.
Edgin's fastball ranges from 92 to 95 mph. He also throws an 82-85 mph slider. He grew up in rural Three Springs, Pa., and found his way to Ohio State University, where he served as a reliever. In December of his junior year, Edgin then transferred to Division II Francis Marion, where he had the opportunity to start.
"The Ohio State coach wanted to keep me in the bullpen," Edgin told ESPNNewYork.com last season. "I thought that I needed to start to get drafted. When I was playing summer ball in the Coastal Plains League, I met a guy named David Walters, who is with the Orioles now. He was on my team. We talked. He said, 'Hey, we're one good pitcher away from a D-II World Series team.' Basically I got hooked up with them through him. And it just so happened that one of my catchers from Legion ball when I was in high school actually went to Francis Marion as well. That kind of drew me, and playing baseball in the South."
Edgin was drafted after his junior year in the 50th round by Atlanta but did not sign. The Mets then took him in 2010 in the 30th round on the recommendation of amateur scout Marlin McPhail, who has repeatedly unearthed middle-round gems for the Mets from the Carolinas over the years.
Edgin, 25, was borrowed repeatedly from minor league camp this spring with Byrdak having undergone left knee surgery to repair torn meniscus cartilage. Edgin ended up officially being added to major league camp and ultimately finished with 10 1/3 scoreless Grapefruit League innings. He made 35 relief appearances for Triple-A Buffalo, during which lefties hit .220 against him (vs. .256 for righties). The Mets opened a 40-man roster spot for Edgin when Chris Schwinden cleared waivers earlier in the week.
• Tom Seaver, on hand for the Triple-A All-Star Game, added to the criticism of Reggie Jackson for speaking ill of the credentials of several Hall of Famers, including the late Gary Carter. "Reggie is Reggie. And I like Reggie, but Reggie sometimes turns the logical part of his brain off," Seaver said, according to Mike Harrington in the Buffalo News. "And Reggie loves to talk. It just didn't make very much sense to me."
As for the reception Jackson might get when the Hall of Famers gather for the upcoming induction ceremonies, Seaver added via Harrington: "It will be interesting to see, won't it? Reggie will apologize. He's very diplomatic. The other part of it is he believes very strongly about the institution. He wouldn't be saying that if it was just about himself, I hope. And he's too bright not to be that way."
Read more in the Daily News.
• R.A. Dickey appeared on the "Late Show" on CBS last night. Dickey taught David Letterman the knuckleball grip. Letterman then attempted to catch some knuckleballs, although Dickey gave him a tame version of the pitch. Watch the video here.
The Dickey-featured documentary "Knuckleball!" will be available for order on digital cable beginning Sept. 18, according to Cody Derespina in Newsday. Meanwhile, the All-Star Game ratings peaked about the time Dickey entered Tuesday's game for the sixth, writes Bob Raissman in the Daily News. Read more on the Letterman appearance in the Daily News.
• Jerry Seinfield recently explained to Richard Sandomir in the Times why he has no interest in buying a share of the Mets. "There is no higher level to being a fan," Seinfeld said. "It's not a better experience if you own the team. ... It's like the Empire State Building. If you like it, go there. You don't need to own it. ... I have enough people yelling at me about things in the street -- 'Nice play at third base, Jerry; nice pickup' -- that I didn't need to add ownership to it."
• Harvey tossed two scoreless innings and Valentino Pascucci reached base four times in the Triple-A All-Star Game before a sellout crowd in Buffalo of 18,025. Meanwhile, Binghamton's Eric Campbell delivered a walk-off RBI single in the Eastern League All-Star Game. Read Wednesday's full minor league recap here.
Campbell earned MVP honors. Read more in the Binghamton Press & Sun-Bulletin.
• Michael Salfino in the Journal chronicles the Mets' two-out success during the first half. With 48 percent of their runs scored with two outs, the Mets have plated the highest percentage of runners with two outs in the majors in any season since 1974, when Stats LLC started keeping the statistic. Next best: the 1994 San Francisco Giants, at 46.6 percent of their runs scored with two outs. Writes Salfino:
If the Mets this year performed with two outs at a league-average rate of 38%, they would have about 39 fewer runs -- or an estimated four fewer wins. New York went into the break at 46-40 and battling for playoff contention. If not for their two-out magic, though, the Mets would have a losing record. The Mets hit .254 with no outs and .247 with one out, both 21st in baseball. But their .274 average with two outs is third in the majors and would be the highest two-out average in their history. Last year, they were also good when the chips were down, posting a .269 two-out average that's second best in franchise history. This year's two-out charge has been led by David Wright (.386 with 25 RBI), Josh Thole (.357/7), Daniel Murphy (.337/24), Lucas Duda (.320/23) and Ruben Tejada (.320/5).
• Triple-A right-hander Collin McHugh continues to blog about his minor league life here.
• Sheets appears likely to pitch for Atlanta on Sunday against the Mets. It would mark his first major league action since July 19, 2010 with Oakland. Read more in the Atlanta Journal-Constitution.
TRIVIA: What remembrance from the first game back at Shea Stadium after Sept. 11 did Chipper Jones keep after finding it on the field?
Wednesday's answer: In his second start as a Met, Pedro Martinez opposed John Smoltz in Atlanta on April 10, 2005. Smoltz carried a 1-0 lead into the late innings. But Carlos Beltran delivered a two-run homer in the eighth and Martinez went the distance as the Mets prevailed, 2-1, to snap a season-opening five-game losing streak.