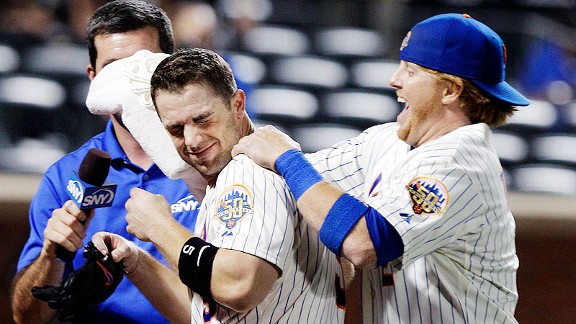 AP Photo/Frank Franklin II
With the second half kicking off Friday, all of Flushing is wondering: Are the Mets for real?As the Mets get set to open the second half in Atlanta on Friday, here are five questions to consider:
1. Matt Harvey?
So just how do the Mets make do in Dillon Gee's absence, likely for the rest of the season because of planned Friday surgery to address a damaged artery in his pitching shoulder? Terry Collins has said the immediate answer is 41-year-old Miguel Batista, although that cannot be more than a temporary patch. The Mets can delay the need for Gee's turn until next Saturday, after series in Atlanta and Washington, if the other four starters simply pitch on standard rest. Perhaps within a month, if not sooner, Matt Harvey claims the spot. If team brass thought he would be ready to excel right now, he would be getting the ball -- not Batista. But clearly there are still refinements to be made, including keeping his fastball down in the zone and more use and development of his changeup, so major league hitters cannot sit on the fastball.
2. Will the Mets make a trade-deadline acquisition?
Would it be a cop-out to say maybe? Clearly there have been tangible talks with the Colorado Rockies about righty-hitting catcher Ramon Hernandez. And lefty reliever Matt Reynolds could end up in that deal too, if a swap materializes before July 31.
While the Mets can use an upgrade to address their struggles against left-handed starting pitcher (they're 12-20 in those games), Sandy Alderson has said returning Jason Bay may be the best righty bat the Mets acquire. After going through great pains to concentrate on the farm system, the Mets are not going to part with core prospects. And they're unlikely to take on an exorbitant salary, either. So the margins would seem where the Mets would add, potentially in the bullpen.
If newly promoted lefty Josh Edgin can quickly succeed, that will alleviate some pressure. A team official, while not entirely eliminating the possibility, recently said he did not expect to acquire another team's closer -- so we're talking smaller fish.
3. Are the Mets for real?
Every time I think this is the end for the Mets, they surprise. Swept in the Bronx? They turn around and sweep the Rays. In fact, the Mets had a credible showing during a late first-half stretch against eight straight opponents with winning records, even with a 1-5 performance against the Yankees during that period.
How aggressively Alderson moves at the trading deadline, and how credible the Mets really are, should be determined again by the next stretch. The Mets open the second half at second-place Atlanta, then play at the first-place Nats. They then return home to face two division leaders: the Dodgers and again the Nats.
4. What happens when Jason Bay and Frank Francisco return?
Bay and Frank Francisco were due to begin a rehab assignment on Wednesday night in the Florida State League, but Class A St. Lucie's game at Tampa was rained out. So perhaps both will try again today. Collins at one point identified next week's series in D.C. as the target date for their DL activations, although that may be slightly too quickly, at least in Bay's case, since Collins has indicated the left fielder also will make a stop at Triple-A Buffalo.
As for playing time, let's face it: There are too many meaningful games looming to play an unproductive player because of a big contract. So if Bay doesn't put up numbers quickly upon returning, it stands to reason he may only start against left-handed pitching, and certainly no more than half the time.
Francisco will take over the closer's role. No doubt about that. The good thing is that Bobby Parnell's solid performance in the interim as closer means the manager knows he has a capable setup man.
5. Will any other farmhands be promoted during the second half?
I asked Collins before the break if there was anyone in the system -- prospect or otherwise -- who might help the Mets in the second half. He said no, but Edgin is getting a shot as the second lefty. And Jenrry Mejia could be up soon, provided he shows a little more aptitude in terms of relief work.