Entering the 2011 season, the Mets gave Chris Young and Chris Capuano incentive-based deals that each could max out at $4.5 million with production.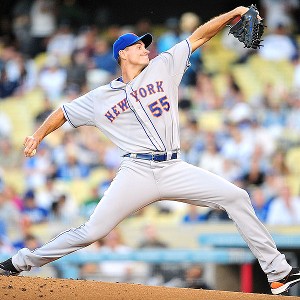 Gary A. Vasquez/US Presswire
Chris Young again has a $1.1 million base salary this season, plus incentives.
Young received a base salary of $1.1 million, and never collected anything additional because he made only four starts before requiring surgery to repair a torn anterior capsule.
Capuano, who had a base salary of $1.5 million, ultimately earned $3.925 million by logging 186 innings and making 31 starts.
Now, with Dillon Gee likely joining Mike Pelfrey in being sidelined for the season, the Mets heavily will rely upon output from Young. His contract, it turns out, is structured similarly to last season.
A major league source offers these specifics for Young's 2012 deal, which includes a $1.1 million base salary and incentives that can raise the total earnings to as much as $4.85 million.
There's an additional $500,000 owed if he were traded.
• Base salary $1.1 million
• Games started bonuses:
$250,000 apiece for start Nos. 5, 10, 15
$200,000 for start No. 20
$75,000 apiece for start Nos. 21 through 27
$100,000 apiece for start Nos. 28-31
• Innings bonuses:
$125,000 for 70 innings
$150,000 apiece for reaching inning Nos. 80, 90, 100, 110, 120, 130, 140 and 150
$175,000 apiece for inning Nos. 160 and 170
$200,000 for 180 innings.
• $500,000 trade bonus