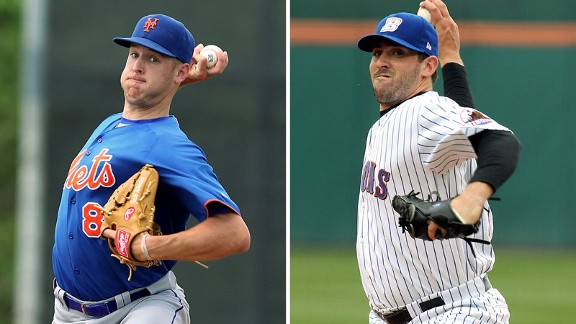 Mike Janes/Four Seam Images via AP Images
Zack Wheeler and Matt Harvey both appear on Keith Law's top-50 prospects list.
Zack Wheeler has jumped 13 spots, to No. 14, in Keith Law's updated rankings of the top 50 prospects in baseball. Matt Harvey now checks in at No. 30.
Here's what Law had to say:
14. Zack Wheeler, RHP, New York Mets (age 22)
Current level: Double-A (Binghamton)
Preseason ranking: 27
He was touching 97-98 mph facing two batters at the Futures Game, although he won't pitch at that velocity as a starter. He still projects as a solid No. 2, top 30 or so in the league, with an outside chance of more.
30. Matt Harvey, RHP, New York Mets (age 23)
Current level: Triple-A (Buffalo)
Preseason ranking: 38
He has four average or better pitches, with velocity that will flash plus and a pretty good changeup but without the consistent breaking ball or command to make him a potential ace.
Insiders can read the full rankings/commentary here.