Chris Young Stats to Watch
The thing to watch from Young in the second half of the season will be whether he can be more than a six-inning pitcher.
Young has held opponents to a .237 batting average and .579 OPS in the first six innings of games, but they are 8-for-15 with three home runs against him in the seventh inning and beyond.
Both against the Yankees and Phillies, Young did well to avoid the middle-third of the plate width-wise until the seventh inning, when both teams made him pay for doing so, in the form of those three home runs and a double.
Tim Hudson Stats To Watch
This will be Tim Hudson's first start against the Mets this season, after facing them five times (with a 2-3 record) in 2011.
He's 15-9 career against the Mets and a win would move him into the top 20 all-time for pitcher wins against the Mets. A loss would make him the 48th pitcher with at least 10 losses against them.
David Wright is hitting only .206 with two home runs in 63 career at-bats against Hudson. Ruben Tejada has been a pest for Hudson, netting six hits in 11 at-bats last season. Of the nine balls that Tejada has hit against Hudson, four were line drives.
Chipper-Watch
Chipper Jones enters with 20 hits, eight walks, and a .426 batting average in his last 13 games and is 14-for-28 with five walks against right-handed pitchers in that span.
Jones is also 5-for-9 with two home runs against Young. His next home run would be his 49th against the Mets, passing one Hall-of-Famer (Willie McCovey) and tying another (Mike Schmidt) for the most home runs against the team. Willie Stargell is the all-time leader with 60.
Expect the Mets gameplan to be similar to what it was when they held him to 1-for-8 as a left-handed hitter earlier this season -- work Jones away.
That's for good reason. Jones is 14-for-30 as a left-handed hitter this season when a pitch ends on the inner-half of the plate.
Murphy-Watch
Daniel Murphy hopes to pick up where he left off at the end of the first half.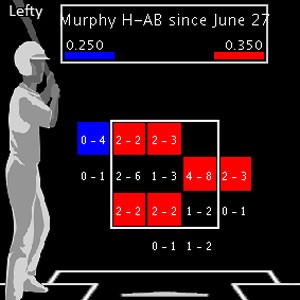 A look at Daniel Murphy's recent success.
He also hopes to resume his success versus the Braves, against whom he is 9-for-26 with two walks and no whiffs this season. Murphy has taken 26 swings against Braves pitching and only missed on one.
Murphy is 19-for-40 (.475) in his last 11 games. The image on the right shows his success by pitch location in this stretch.
Murphy was 4-for-42 when hitting a ground ball and 10-for-19 when hitting a line drive in June, but the baseball math has evened out for him this month. He's 4-for-8 on his grounders this month and 4-for-4 on line drives.
Simmons is key Braves loss
It will be interesting to see what the Braves do in the absence of impressive rookie shortstop Andrelton Simmons, who is out with a broken finger. His absence could be of benefit to the Mets.
Simmons presence was of particular importance to a pitcher like Hudson, who gets such a high percentage of ground balls. Hitters reached on 23 percent of their ground balls against Hudson in April and May, when their primary shortstop was Tyler Pastornicky, but just 14 percent in June and July after the transition was made to Simmons.