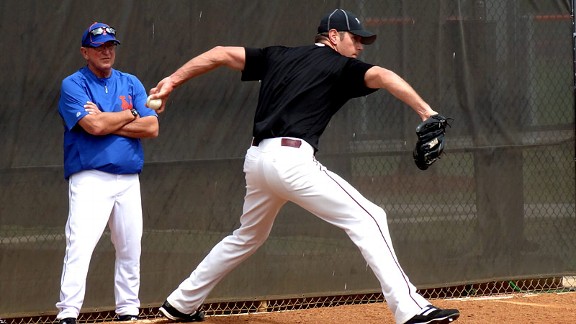 Adam Rubin
Sidearm left-hander C.J. Nitkowski auditioned for the Mets in March, but did not sign until today.
ATLANTA -- The Mets have signed left-handed reliever C.J. Nitkowski to a minor league deal and will assign him to Double-A Binghamton, the reliever announced on Twitter.
Nitkowski wrote: "I haven't pitched in AA in 17 yrs but you take an opportunity when it presents itself & run with it. This is it, last shot. Thank you @Mets."
The 39-year-old Nitkowski, a St. John's product from Long Island, last pitched in the majors in 2005 with Washington. He last pitched professionally in 2010 in Korea. He auditioned for the Mets in March in Port St. Lucie, Fla., but did not sign.
Nitkowski last year sought out the doctor who injected stem cells into Bartolo Colon. Nitkowski had the same procedure performed on his shoulder. He wrote this story for Sports Illustrated last summer regarding his "first-hand experience with stem cell treatment" in his pitching arm.