ATLANTA -- The Mets did not come to terms with second-round pick Teddy Stankiewicz, the 75th overall selection in the draft. Stankiewicz is a high school right-hander from Fort Worth (Texas) Christian School and is not related to the ex-Yankee Andy Stankiewicz.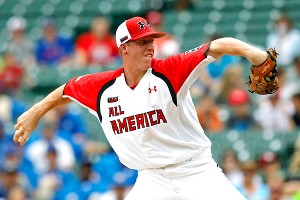 Mike Janes/Four Seam Images/AP Images
Second-round pick Teddy Stankiewicz did not sign with the Mets.
Overall, the Mets signed 21 players, including 15 of their top 16 selections.
VP Paul DePodesta indicated the organization did not have any offers out today to unsigned draftees, and that by passing on Stankiewicz, the organization will have an extra pick in next year's draft. The Mets will get the No. 76 pick next year for failing to sign Stankiewicz, according to DePodesta.
Stankiewicz has committed to the University of Arkansas.
The deadline was at 5 p.m. Friday. to sign players from last month's draft.