ATLANTA -- Terry Collins said newly promoted Josh Edgin will be used in integral roles, not babied. Collins speculated the left-handed rookie could be called upon in the seventh inning to face some combination of lefty hitters Michael Bourn, Jason Heyward and Freddie Freeman. That would allow Collins to save Tim Byrdak for a more critical matchup with those batters an inning or two later.
"Damn right. That's why he's here," Collins said about throwing Edgin into the fire. "Guess what? It's the middle of July. It's fire time."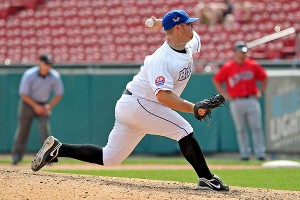 Win McNamee/Getty Images
Josh Edgin will get tested right away with the Mets, according to Terry Collins.
Edgin tossed 10 1/3 scoreless Grapefruit League innings in major league camp this spring training, even though he wasn't officially added until midway through camp. He struggled at points during the regular season with Triple-A Buffalo, which Collins assigned to bad slider command over the middle of the plate, and falling behind in the count while the staff refined his mechanics.
"He's had ups and downs, like everybody else in this game, during the season," Collins said. "I know he's throwing the ball good lately. So we'll find out what he's got."
Collins praised Edgin's mound poise, and joked that no one ought to charge the mound against him, because he's a former state wrestling champion in high school in Pennsylvania.
Edgin said he won the independent/private schools state title, then finished fourth nationally among those types of schools while wrestling in the 275-pound weight class. He weighed in at 235.
Who did Edgin lose to in the national semifinals? None other than future UFC fighter Justin Wren.
Edgin will wear No. 66, the first player in Mets history to do so. He said it was randomly assigned and not requested.
Justin Turner walked by Edgin's locker pregame Friday and joked he looked like Braves catcher Brian McCann.
As for his spring-training performance getting him on the radar, Edgin said: "A 30th-round pick, I've got to do what I can do, right? I think I opened some eyes."