ATLANTA -- In spite of Chris Young's struggles in Friday's 7-5 loss to the Braves, the right-hander said he felt healthy. And that, coupled with him throwing only 71 pitches, should allow Young to return on standard rest on Wednesday in Washington, Terry Collins and Young concurred.
That means the fifth starter would not be required until next Saturday, against the Dodgers at Citi Field.
"I'm sure he'll be good in a couple of days, even though he had to work pretty hard," Collins said. "Seventy-one certainly is something he can come back from."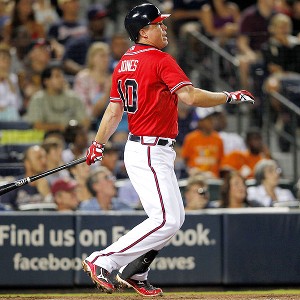 John Bazemore/Associated Press
Josh Edgin was rolling in his major league debut until Chipper Jones homered in the sixth.
Said Young: "I'll leave that up to Terry and (pitching coach) Dan (Warthen) and see what's best for the team, but I anticipate being ready (for Wednesday), especially given the short outing tonight."
Miguel Batista, the presumptive favorite when Dillon Gee's turn eventually comes up, did little to distinguish himself. He walked four in 1 1/3 innings and needed Josh Edgin to strand the bases loaded. Batista has now walked 28 in 42 innings this season.
"I don't think he walks guys on purpose. I think he knows enough who he may have trouble getting out in certain situations and is not afraid to pitch around them," Collins said. "But when you walk leadoff guys, you're asking for danger there a little bit."
As for Young's performance (five runs in three innings), Collins said: "Obviously he probably was a little rusty with not the normal activity that he usually does -- the playing catch and stuff during the week."
Said Young: "I did my best to prepare for the start and I had trouble finding my rhythm early. You're going to have nights like that over the course of the season. I needed to do a better job limiting the damage. ... I felt good. It's just the ball wasn't going exactly where I wanted. I'd make a good pitch and follow it up with two poor pitches."
Case in point for the subpar location: Young missed down and in to David Ross on his three-run homer.
"He's a down-and-in hitter, and I threw it right there," Young said. "It was the worst pitch of the night."
Edgin, despite his line looking unsightly (two runs in 1 1/3 innings), largely had a positive outing. After recording four straight outs, he missed over the plate with a hanging slider that Chipper Jones deposited for a solo homer. He then left Freddie Freeman on base, and Ramon Ramirez allowed him to score.
Edgin had began his outing with a pair of balls after inheriting the bases loaded from Batista. Daniel Murphy came in to talk with him and Edgin rallied to strand the three runners by striking out a pair.
"He said, 'You have the stuff to be here. Just calm down and do it,'" Edgin said.
As for his outing overall, Edgin added: "The bases-loaded jam, I commanded my pitches. The next inning, not so much. You can draw the line right down the middle there."
Collins summarized the pitching staff's performance this way: "Eleven base on balls. Twenty-one baserunners. You're not going to win many games."