ATLANTA -- As Terry Collins wrapped up Sunday's pregame press conference at Turner Field, he asked reporters with amusement why there had been no questions about top prospect Zack Wheeler.
After all, Wheeler had tossed a six-hit shutout Saturday night for Double-A Binghamton against Erie. And the Mets need a starter next Saturday to fill Dillon Gee's rotation spot.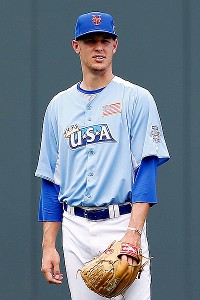 Jamie Squire/Getty Images
Zack Wheeler represented the Mets in last Sunday's Futures Game, retiring both batters he faced.
Collins went on to say there was no consideration to using Wheeler against the Dodgers at Citi Field, even though Wheeler is polished right now and may be more major league ready than Matt Harvey. The start will go to either Harvey, who will be scrutinized during Monday's Triple-A Buffalo start against Toledo, or Miguel Batista.
Wheeler, meanwhile, is now 9-4 with a 2.39 ERA in 16 starts for the B-Mets. He has allowed 72 hits and only one homer in 101 2/3 innings while walking 36.
Wheeler's ERA ranks second in the Eastern League, trailing only Richmond's Chris Heston (2.24). His nine wins, 95 strikeouts and 1.06 WHIP also lead, or are tied for, the league lead.
Wheeler undoubtedly will be moved to Buffalo imminently, potentially even taking over Harvey's rotation spot if the 2010 first-round pick is promoted.
A scout who has watched the 22-year-old Wheeler twice this season says he is the best prospect he has seen in person this season, and better than Josh Beckett at the same age. And Beckett already was up with the Marlins at that age.
Can Wheeler get major league hitters out now? "Yeah," the scout said. "That's a clown question."
The scout worried about Harvey's tendency to have flat fastballs up in the zone, as opposed to Wheeler, who throws "downhill."
Collins was told by minor league personnel about Wheeler's start last night: "They said the best command he's had."