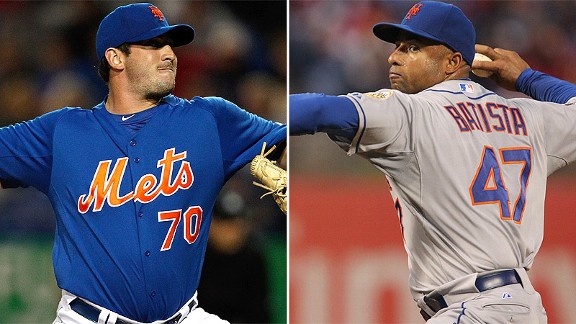 Getty Images
Matt Harvey is remaining in Triple-A for now, while Miguel Batista will start Saturday against the Dodgers at Citi Field.
WASHINGTON -- Sandy Alderson said Miguel Batista will start over Matt Harvey on Saturday against the Los Angeles Dodgers, as the Mets prioritize Harvey's development over immediate major league needs.
Alderson suggested anyway that Batista was the best choice to face L.A., although the GM did not preclude Harvey starting during the ensuing road trip to the West Coast, perhaps in San Diego the first weekend in August.
Terry Collins and Alderson phoned Triple-A Buffalo manager Wally Backman and Harvey from the visiting manager's office at Nationals Park on Tuesday afternoon to inform them, shortly after cementing a decision that became clear after Harvey's outing Monday against Triple-A Buffalo, which Alderson watched on TV and deputy J.P. Ricciardi watched in person.
"I've said on more than one occasion that his development and future are independent of our needs in 2012," Alderson said. "He's pitched very well. He pitched well last night. We expect he will pitch well as he continues his season in Buffalo. I think it's more likely than not that he will pitch in New York sometime this season. It just won't be Saturday in Citi Field. It could be shortly after that. It could be some time after that. It really is a function of him and his situation. We want to make sure that when he starts his major league career, it's an auspicious start and that, as I've said before, it is independent of issues that exist at the major league level.
"So he's knocking on the door. We can hear him. But we thought this was the best decision.
"On the other hand, one could conclude that he's done everything he needs to do at Triple-A, and that his best bet is to continue his development right here in the major leagues. And that's something we took into account. And my guess is that's something we will do sometime this season -- that if he's in our plans for next year, he ought to be pitching here sometime this season. It just makes sense. But we didn't feel the time at this time was right."
Alderson added that Double-A pitcher Zack Wheeler under no scenario he can envision will pitch at Citi Field in 2012, although a move to Buffalo will occur "relatively soon."
On the trade front, Alderson said he is not pursuing starting pitchers, saying it would be a waste of resources given other team needs. He said the clear-cut priority is relief help. The GM went on to say that acquiring a righty hitter is not a major priority, either. Alderson said the Mets will be reluctant to part with any prospect who can help in 2013 or 2014.
"If there's somebody a little further away, even though there's some upside, but a little more speculative, that's probably a place we'd be prepared to be flexible," Alderson said.
Alderson said the Mets have deployed all of their professional scouts to watch major league teams for the next week, not the minors. And that, he said, is a reflection that "right now" the Mets are planning to be buyers at the July 31 trade deadline.
"Realistically, the possibility of acquiring a starting pitcher is not good," Alderson said. "I think that they're going to be in high demand. And because we think we have quality starting pitching in our pipeline, I don't know that it makes sense for us to focus our attention on starting pitching.
"I think that's the No. 1 priority," the GM continued, referring to the bullpen. "You take the productivity of the bullpen and then take out Frank Francisco from that mix and look at what happened in Atlanta, that needs to be our top priority. We've looked at other things. Other things could develop. But, again, we're focused on a long-term plan with the recognition that 2012 is very important, and we want to be as competitive as we possibly can be."
As for giving Batista the nod, Alderson said: "Miguel has given us a number of good starts -- probably his most effective role for us. We think he can do that again."