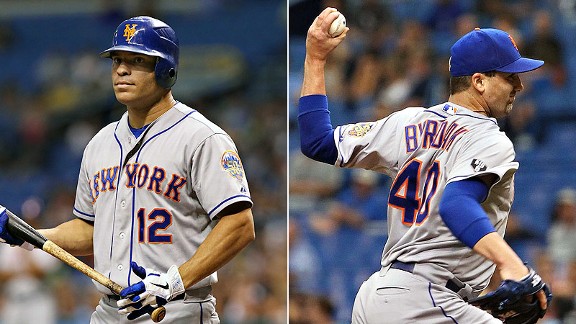 Kim Klement/US Presswire
With eight days until the trading deadline, it's worth considering whether the Mets ought to trade Scott Hairston and Tim Byrdak with an eye toward the future.
The Amazin's second-half swoon continued with an 8-3, 11-inning loss Sunday as the Dodgers swept a series in Queens for the first time since 2002 and dropped the Mets under .500 for the first time this season, at 47-48.
Afterward, the Mets announced prospect Matt Harvey would be promoted and join the rotation Thursday at Arizona. Harvey is due at Citi Field on Monday, along with Nicole "Snooki" Polizzi and Darth Vader. (More later.)
Harvey technically will be a member of the "taxi squad" today -- in uniform pregame, but inactive. The Mets then will make a roster move sometime before Tuesday's game. By activating Harvey early, he will be allowed to throw a bullpen session with pitching coach Dan Warthen this afternoon at Citi Field and get acclimated to major league surroundings in advance of his debut against the Diamondbacks.
Harvey tweeted Sunday night: "Thank you everyone for the support! Such an amazing feeling. Heading to the airport and NYC early in the morning."
Harvey arrives amid a freefall. The Mets are 1-8 since the All-Star break, with the first-place Nats now coming to Citi Field for three games. The Mets then embark on a trip to Arizona, San Francisco and San Diego.
The Mets have been notorious second-half collapse artists in recent years. They were 31-40 in the second half last season. In 2010, they were 31-43 post-All-Star break. In 2009, it was 28-47. And folks certainly remember '07 and '08 all too well, even though the Mets actually had winning records both of those second halves.
"It's very disappointing," Terry Collins said about the current swoon. "We're not happy with the way things have gone the last 10 days, so we've got to buckle down and get after it and get back over. We've got a tough few games coming up. We've got to pick ourselves up and get ready for them."
Monitor this today, too: Fan-favorite Jordany Valdespin started over Jason Bay on Sunday. Will Collins sit Bay a second straight day against a right-hander and use Valdespin again in left field? It bears watching.
As for the next eight days, the Mets clearly no longer are in the position to be aggressive buyers before the July 31 trade deadline, if they ever intended to be in that category. They are now five games behind the Braves, who occupy the NL's second wild-card position.
Will the Mets turn around and sell? After all, Scott Hairston particularly, as well as Tim Byrdak, would be desirable pieces for contenders.
A team official last week insisted the Mets would not dismantle, citing how the club held Jose Reyes last year in part to keep things competitive. But it's worth noting the Mets traded Carlos Beltran last July 28 when they had a 52-51 record and were four games out of the wild-card lead. An AL executive said after Sunday's sweep about the Mets trading Hairston and/or Byrdak before July 31: "I think they will."
Monday's news reports: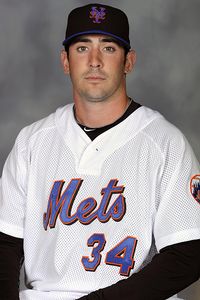 Courtesy of New York Mets
Matt Harvey
• After J.P. Ricciardi watched Harvey start for Triple-A Buffalo last Monday, the Mets bypassed the 2010 first-round pick for a weekend start against the Dodgers that instead went to Miguel Batista. Batista then bombed, allowing four runs on five hits and three walks in three innings Saturday. The 41-year-old Batista was designated for assignment before Sunday's game, clearing roster space for the promotion of Elvin Ramirez to assist a bullpen that Batista helped overtax.
Harvey seemed a no-brainer to step into that Dillon Gee/Batista rotation spot, especially given the lack of alternatives. But then Harvey complicated matters by stumbling Saturday with Buffalo. Harvey allowed six runs on seven hits, two walks and a hit batter, and surrendered a pair of homers, in five innings during the Bisons' 11-0 loss to Charlotte (White Sox) as minor league pitching coordinator Ron Romanick watched.
For the season with Buffalo, Harvey is 7-5 with a 3.68 ERA in 20 starts. He has allowed 97 hits, walked 48 (one intentionally) and hit six batters while striking out 112 in 110 innings. The strikeout total ranks second in the International League, trailing only Columbus' Corey Kluber (118).
With Harvey's addition, the rotation through one turn looks like this:
Nationals at Citi Field
Monday: RHP Chris Young (2-4, 4.11 ERA) vs. RHP Jordan Zimmermann (7-6, 2.35)
Tuesday: RHP R.A. Dickey (13-1, 2.84) vs. LHP Gio Gonzalez (12-5, 3.32)
Wednesday: RHP Jeremy Hefner (1-3, 5.85) vs. RHP Stephen Strasburg (10-4, 2.85)
Diamondbacks at Chase Field
Thursday: Harvey vs. LHP Wade Miley (11-5, 3.02)
Friday: LHP Jon Niese (7-4, 3.59) vs. RHP Josh Collmenter (2-2, 3.82)
Excluding supplemental picks, Harvey will become the 10th pitcher selected by the Mets in the first round to debut in the majors with the organization, joining:
Year drafted, Player, Opponent, Debut Date, Decision, Line
1965, Les Rohr vs. Dodgers, Sept. 19, 1967, W, 6 IP, 6 H, 3 R, 2 ER
1967, Jon Matlack at Reds, July 11, 1971, ND, 7 IP, 6 H, 2 R, 2 ER
1969, Randy Sterling at Expos, Sept. 16, 1974, W, 5.2 IP, 2 H, 2 R, 2 ER
1979, Tim Leary, at Cubs April 12, 1981, ND, 2 IP, 0 H, 0 R, 0 ER
1982, Dwight Gooden at Astros, April 7, 1984, W, 5 IP, 3 H, 1 R, 1 ER
1994, Paul Wilson vs. Cardinals, April 4, 1996, ND, 6 IP, 6 H, 3 R, 3 ER
2001, Aaron Heilman vs. Marlins, June 26, 2003, L, 6 IP, 6 H, 5 R, 1 ER
2004, Philip Humber vs. Nationals, Sept. 24, 2006, ND, 1 IP, 0 H, 0 R, 0 ER (relief)
2005, Mike Pelfrey vs. Marlins, July 8, 2006, W, 5 IP, 5 H, 3 R, 2 ER
Mets first-round picks Scott Kazmir, Billy Traber and Cliff Speck debuted elsewhere.
Meanwhile, the trickle-up may very well mean top prospect Zack Wheeler gets a promotion from Double-A Binghamton to Buffalo.
Read more on Harvey's impending major league debut in the Star-Ledger, Post, Times and Newsday.
• The Mets rallied to tie Sunday's game in the bottom of the ninth on Ike Davis' run-scoring "groundout." (Replays suggested he was safe.) But L.A. posted five runs in the 11th against Ramon Ramirez to notch the series-sweeping victory. On a positive note: Daniel Murphy went 4-for-5 and was 9-for-11 with three RBIs and a walk in the series. Since June 26, Murphy is hitting .440 (33-for-75) with 18 RBIs and 16 extra-base hits in 20 games. Read game recaps in the Journal, Post, Newsday, Star-Ledger, Record, Daily News and Times.
• Writes columnist Ken Davidoff in the Post:
Another team's scout, in attendance at yesterday's game, had a better feel for the situation when he said: "Terry's done a great job with these guys. This team isn't very good." Agreed that Collins has run this team admirably, but I'll concur even more with the scout's second thought. These Mets played over their heads in the first half, riding the backs of three elite performances -- those of R.A. Dickey, Johan Santana and Wright. Santana is on the disabled list now, with no return date. Dickey has slowed down after his brilliant beginning. Wright? He remains outstanding, which is great news for the Mets regardless of the overall team record. There just aren't enough pieces surrounding Wright, however -- Jason Bay fittingly made the final out yesterday, as a pinch-hitter -- and the team's run of good luck has run out.
• At Sunday's Hall of Fame induction ceremony in Cooperstown, those gathered were treated to a video tribute to the late Gary Carter as part of the program. Carter's widow Sandy attended.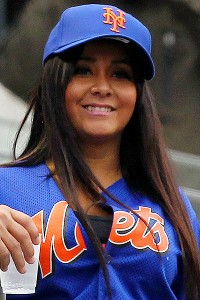 Al Bello/Getty Images
Mets-fan Snooki is due to be at Citi Field today.
• Snooki, a bona fide Mets fan, as well as fiancé Jionni LaValle will be at Citi Field on Monday afternoon. She will be taping segments of an MLB.com show that is due to appear in August. Tonight also is the second-annual Star Wars night at Citi Field. Darth Vader, Jedi and Stormtroopers will be at the stadium.
• Mike Baxter went 1-for-3 and was hit by a pitch Sunday with Binghamton. Baxter (displaced collarbone/fractured rib cartilage) played a full game in left field, marking his first time playing in the field during an eight-day-old rehab assignment.
• Frank Francisco (oblique) threw a 40-pitch bullpen session Sunday at Citi Field and should begin a rehab assignment shortly. "I'm trying to do whatever I can to be there, but it's a process," Francisco said, according to Tom Pedulla in Newsday. "I've got to take the time and play it safe. I don't want to miss the rest of the season."
• Savannah right-hander Domingo Tapia took a no-hit bid into the seventh inning before allowing a leadoff single. Savannah ultimately beat Rome, 5-1. With Buffalo, manager Wally Backman was ejected and not around to see the finish in a 10-8 loss to Charlotte. Garrett Olson allowed six runs (four earned) as he stepped into the Triple-A rotation following Hefner's promotion. Jenrry Mejia tossed two scoreless relief innings in the loss, recording two strikeouts and allowing two hits. Read Sunday's full minor league recap here.
• Jared Diamond in the Journal notes that while the Mets link Johan Santana's DL trip to the sprained right ankle he suffered in his final first-half start, Santana had begun to struggle well before that. In the start immediately after his June 1 no-hitter, Santana allowed six runs against the Yankees (and the fault was placed on extra rest that disrupted Santana's routine). Writes Diamond:
Among the 11 other pitchers to throw a no-hitter since 2010, only one pitched worse over this long of a stretch immediately afterward: Philip Humber posted a 7.38 ERA in his first eight starts following his perfect game in April. In general, pitchers who throw no-hitters -- especially ones as talented as Santana -- tend to stay on course after the no-no. But perhaps Santana broke that trend because of his unusually high pitch count. In fact, only one pitcher since 2010 required more pitches to throw a no-hitter than Santana: Edwin Jackson, who threw a whopping 149 pitches in his 2010 effort for the Diamondbacks. He struggled immediately afterward, pitching to a 7.24 ERA in his next five starts before regaining his form.
• Andy Martino in the Daily News says there is racial harmony among players in the Mets clubhouse.
• David Satriano in the Post speaks with Niese about the southpaw's Sunday performance.
TRIVIA: For which team did former Mets first-round pick Tim Leary appear in the most games?
Sunday's answer: The Mets slipped below .500 for the duration of the season last year on Aug. 11, when the dropped to 58-59 entering a series at Arizona. They subsequently were swept by the Diamondbacks.