Sandy Alderson suggested Monday that the Mets are unlikely to become sellers at the trading deadline. The GM also implied that while the Mets may no longer become aggressive buyers with 2012 in mind, it does not entirely preclude a trade materializing.
Alderson said trades that do not necessarily diminish the Mets' ability to complete in 2012 but which can set the Mets up better for next season will be considered.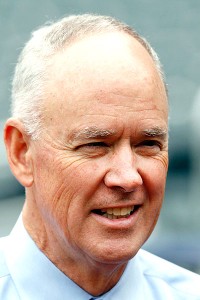 William Perlman/US Presswire
Sandy Alderson offered no indication the Mets were going to be aggressive at the trade deadline.
The bottom line, though:
The Mets seem most likely to stand pat at the July 31 deadline. And the GM believes it is more valuable to hold onto Scott Hairston and Tim Byrdak in the final years of their deals to keep the 2012 Mets competitive than to trade them for prospects. There's no way either would command the Zack Wheeler-type haul the Mets received last year for Carlos Beltran while in a comparable position in the standings, Alderson reasoned.
"You've got to be realistic and take into account where you are from day to day," Alderson said before Monday's series opener against the Nationals, which the Mets entered a game below .500. "We're certainly not in the same position today that we were four or five days ago. That doesn't mean we're sellers. But I'd say right now we're exploring a lot of different scenarios.
"It's important for us to win games," the GM continued. "We're trying to change the perception here. And part of that is actually winning games, which we realize. So if we were to make a trade, we would want to make sure it made sense not just in terms of acquiring additional talent but also taking into account the importance of the balance of this year.
"The other thing is that Carlos was a commodity that was in significant demand. So taking into account what the demand was versus what we thought the benefit would be to us over the remainder of the season, it was probably a little bit different than the average player that we or some other club might have available."
So if a player is in the last year of his contract (Hairston/Byrdak), it's most valuable to keep him unless overwhelmed?
"Probably," Alderson said. "Yep."
Alderson noted in 1987 with the A's he made trades for Rick Honeycutt and Storm Davis that had no significant impact on that current season, but paid dividends the following year. Those are the types of moves he is now most likely to pursue in the next eight days.
"You can make deals that aren't blockbusters that aren't going to improve you significantly for the remainder of this year but that set you up nicely in some way for the following year," Alderson said.