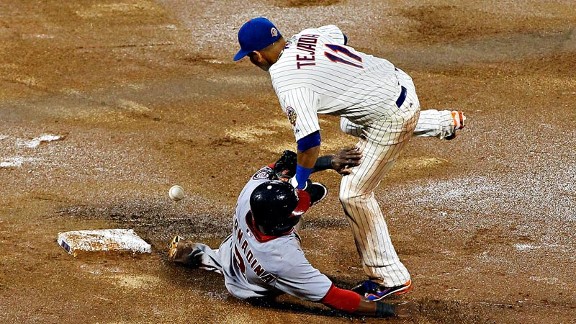 Jim McIsaac/Getty Images
Ruben Tejada couldn't hold a throw from Tim Byrdak and got spiked by Roger Bernardina on a critical 10th-inning play.
Ruben Tejada had a pair of gashes on his right shin, but said he would not require stitches as the result of a 10th-inning slide by Roger Bernardina into the shortstop's leg.
Tejada described himself as "sore." Terry Collins, who figured to give Tejada a day off on the upcoming West Coast road trip, suggested he probably would give Tejada off on Tuesday.
#11 SS
New York Mets
2012 STATS
GM

51

HR0

RBI16

R33

OBP.362

AVG

.318
"It's not a big deal," Tejada said. "I'm good for tomorrow. It's a little bit sore, for sure. But I think I'm good. I'll take medicine tonight and tomorrow morning. I think I'm good."
Said Collins: "He's spiked pretty bad. He's got two pretty-good-size cuts."
Tejada acknowledged he dropped the throw from Tim Byrdak on the would-be 1-6-3 double play before Bernardina ever made contact. The shortstop added that he had no excuse for missing the throw. Instead, the Nationals had two runners on base and none out in what became a six-run frame and 8-2, 10-inning win. Byrdak had been working a fifth straight day and deserved a better fate.
"I have to make that play," Tejada said. "... I tried to make the jump too fast. He's a really good runner first to second, but I have to make that. That's a routine play."
Said Collins: "That was a big turning point for us. ... We'll see how he is tomorrow. But, most likely, he's going to get a day off, for sure."