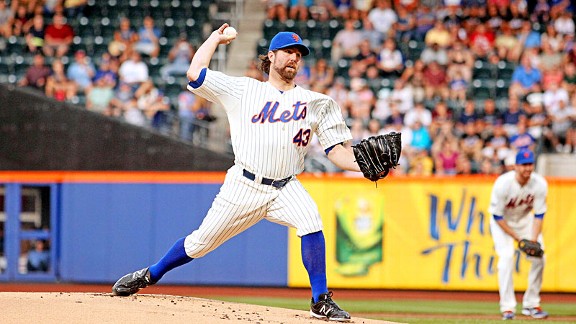 Brad Penner/US Presswire
All R.A. Dickey needed to do was make one quality pitch.
He couldn't.
And just like that, his 11-game winning streak -- the third longest streak in franchise history -- came to an end.
The Mets' 37-year-old knuckleballer allowed five consecutive two-out hits in the sixth inning of Tuesday night's 5-2 setback to the Nationals at Citi Field -- which led to four runs -- and lost for the first time since April 18.
"I had a good knuckleball," said Dickey, who was tagged for five runs (four earned) on eight hits in six innings. "It's tough when things are going on what seems to be a downward spiral, the tendency is to (feel like) woe is me. Nothing goes right. And in order to change it, we have to stand up and own what's ours to own.

"I could've pitched better. An 0-2 count with two outs in the sixth inning. Five hits later we're in a four-run hole that we can't get ourselves out of.
"During that sequence, I gotta make a pitch."
In the month of July, Dickey (13-2) has given up 21 runs (19 earned) on 39 hits in 26 1/3 innings, which amounts to a 6.49 ERA.
"There's a lot on his shoulders right now," manager Terry Collins said. "With Johan (Santana) out, he's the guy. And that's a big responsibility. He's pitched so great all year long. On Tuesday night, he certainly kept us in there."
Dickey allowed just one run in his first five innings pitched. But his outing came unglued in the sixth.
Dickey got the first two outs in the frame and got ahead of Mike Morse 0-2. But Morse singled into left, prompting the floodgates to open.
The next batter, Adam LaRoche, crushed a two-run homer off Dickey into the second deck in right field. Danny Espinosa, Roger Bernadina and Jesus Flores followed with singles, and just like that a 1-all game turned into a 5-1 deficit.
"It's rare. I should've pitched into the eighth inning. I had a good knuckleball. I felt too good for that to happen," Dickey said.
The Mets, who mustered just three hits off Gio Gonzalez (13-5) and three Nationals relievers, have lost five straight and 11 of their last 12. On July 7, they were 46-39. Now, they're a season-low three games under .500 (47-50).
"It's surprising. It's disappointing. It's sad. No one to a man in here wants to perform like this, wants to have a record like this," Dickey said. "But at the same time, we've gotta win, and we're not."
Said Collins: "Right now, we're not a bad team, we're playing bad. We gotta reach down inside and find out what we're made of. We had an easy run in the first half, now we'll find out who's willing to grind it out."
Despite their recent slide, third baseman David Wright remains optimistic.
"We'll get this thing turned around," Wright said. "These two weeks are not gonna define us over the course of the year."