NEW YORK -- Mets left-handed reliever Tim Byrdak apologized to catcher Josh Thole after the two got into an argument in the dugout following Washington Nationals first baseman Adam LaRoche's two-out, two-run home run in the top of the seventh inning on Wednesday afternoon.
Prior to allowing the homer, Byrdak wanted to throw a 2-2 curveball, but Thole was told from the bench to call for a fastball. Byrdak shook Thole off twice, but the catcher continued to put down the sign for a fastball.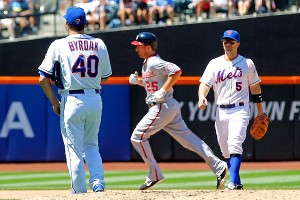 Jim McIsaac/Getty Images
Adam LaRoche rounded the bases while Mets reliever Tim Byrdak fumed.
Byrdak threw the fastball. Unfortunately, it was right down the heart of the plate -- instead of outside, where Thole was set up -- and LaRoche drilled it deep into the right-field seats for his 18th homer of the season to give the Nationals a 5-1 lead.
Byrdak appeared to gesture toward Thole and say something after the ball was hit. He was pulled from the game after the homer, and the two proceeded to have a conversation in the dugout. Byrdak thought it was Thole's call, but once he learned it came from the bench, he turned his ire toward pitching coach Dan Warthen and the two proceeded to having a jawing match of their own. At one point, third baseman David Wright came over to see what was going on.
Eventually, everything subsided. The Mets lost to the Nationals, 5-2, and have now dropped six in a row, 12 of their last 13 and are 1-11 since the All-Star break. After the game, manager Terry Collins ripped into his team, demanding accountability.