PHOENIX -- Catcher Rob Johnson dismissed the results of Matt Harvey's final minor league outing, when the right-hander allowed six runs in five innings Saturday for Triple-A Buffalo. Johnson suggested the performance was an aberration caused by excitement over a potential major league promotion.
"There's no doubt about it," said Johnson, who was promoted from Buffalo and will catch Harvey's major league debut Thursday night against the Arizona Diamondbacks. "I went out there like two pitches in and was like, 'Hey, man, slow it down a little bit.' He gets awfully aggressive, and sometimes he needs to slow that down and stay down in the zone. He's got the ability to throw the ball where he wants to when everything is slowed down. He gets so amped up, he starts missing."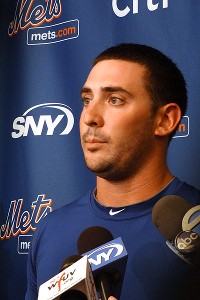 Adam Rubin
Matt Harvey addresses the media Monday at Citi Field.
Terry Collins said Johnson was called up to replace Mike Nickeas in large part because Johnson has served as a mentor to Harvey in the minors. Collins added, though, that Johnson will not be Harvey's personal catcher going forward. Josh Thole should have a handle on Harvey's strengths after observing one or two of the rookie's starts.
Collins added that a second part of promoting Johnson was searching for more offense. Johnson only owned a .207 average in Buffalo this season, but he did hit .313 in 32 at-bats with the Mets when Thole was on the DL with a concussion earlier this season. Nickeas was hitting only .168.
"A lot of it had to do with Harvey," Collins acknowledged. "We thought Rob would be the guy to catch him. But, also, we need to get some offense. And we're grasping at anything that we think can help us get better. When he was here the last time, he was swinging the bat pretty good."
Harvey has topped out at 103 pitches in Triple-A this season, and routinely was in the 90s count-wise, but Collins said there is no firm pitch limit for the 2010 first-round pick's debut. Collins will try to get Harvey out of the game on a high note if doable, though.
"Certainly there's no etched-in-stone pitch count," Collins said. "I mean, we'll do like we do with everybody. We're not going to wear him out. We'll take a good, hard look at how things are doing. And certainly the other team a lot of times dictates when you want to take him out. Hopefully we can get him out on a positive note. But if he's pitching good tonight, I don't care what the situation is going to be, he's going to leave on a positive note."
Harvey actually has pitched at Chase Field before. He recorded the final out of last year's Futures Game at the Diamondbacks' ballpark.
As for Johnson, the only major league debut he could recall catching was Doug Fister's with Seattle in 2009. And, Johnson noted, Fister was nowhere the prospect Harvey is considered.
Johnson went on to note there are only rare opportunities to catch the debut of a Roger Clemens-type pitcher.
Johnson then caught himself.
"And I'm not saying he's going to be Roger Clemens," the catcher added. "I'm just saying that he has the potential to be a pretty good pitcher."