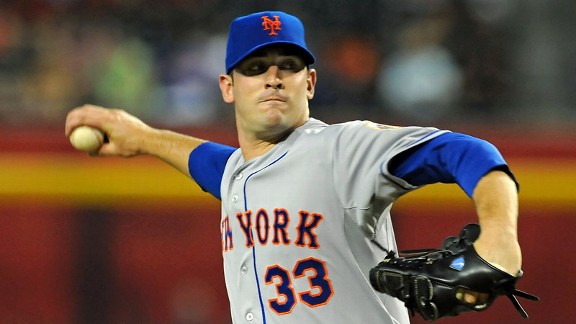 Norm Hall/Getty Images
2010 first-round pick Matt Harvey tossed 5 1/3 scoreless innings in his major league debut Thursday night.
PHOENIX -- After finally finding an open restaurant at a ritzy hotel in Scottsdale and ordering "some bar food" to celebrate a victory in his major league debut with his family, Matt Harvey returned to the team hotel, set his phone on silent and let it recharge.
He did some recharging, too.
"I needed to. I was pretty tired after last night," Harvey said Friday at Chase Field, the day after tossing 5 1/3 scoreless innings against the Arizona Diamondbacks in his first major league start.
By the time Harvey awoke, he said, the focus was on his next start -- opposite Tim Lincecum and the San Francisco Giants on Tuesday, when Josh Thole is expected to catch him for the first time.
"When I woke up, last night was over to me," Harvey said. "Obviously I'm extremely happy with the way that I threw the ball. A win is a win. And it was something that we really needed as a team. We've got another night tonight. And I did everything I could to get my body back in shape -- leg workout, run. Last night's over with. I'm going to go forward and throw a bullpen tomorrow and get ready."
Harvey lightheartedly said he would study video of Giants hitters -- not Lincecum to try to build upon his two-hit debut at the plate.
"I'll go over their lineup pretty good," he said. "No hitting."
His favorite moment from his major league debut?
"Probably strike one," Harvey said. "I know in the past I've had some troubles getting out of the first inning. Once I threw strike one, I felt pretty comfortable. That was something I really wanted to do. I wanted to go out and really pound the zone early and try to get us back in the dugout as quick as I could after that two-run lead."
Harvey has the lineup card and the ball from his first hit as souvenirs.
As for what it meant back in New York, Harvey said he mostly has tuned that out.
"I've honestly been trying to stay away from my phone as much as possible," Harvey said. "I talked to my other sister from back home. And my brother-in-law I talked to a little while today. I think he went into work and everybody was going pretty crazy. I'm just trying to stay away from it and doing everything I can to move forward and prepare for my next start."