PHOENIX -- Jon Niese shouldn't have thrown the ball. He knew it. So too, Niese concluded, did everyone else at Chase Field.
Niese's throwing error on a base-loaded squibber by Willie Bloomquist allowed two extra runs to score in what became a six-run second inning. Niese ultimately was charged with a eight runs (six earned) in six innings in the Mets' 11-5 loss at Arizona on Friday night.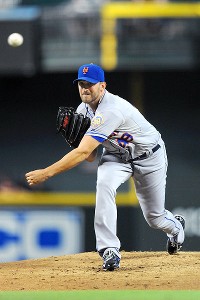 Norm Hall/Getty Images
Jon Niese allowed eight runs (six earned) in six innings Friday night at Arizona.
"I'm sure he wished he could take it back," Terry Collins said. "He didn't have a play. If David [Wright] didn't get to it, that's pretty much a base hit. It was just one of the mistakes we made tonight."
Said Niese: "I think everybody in the ballpark, including myself, knew that I shouldn't have threw that ball. When you're in the heat of the moment, when you're out there battling, I just tried to force it. And I shouldn't have. Hindsight, I wish I would have done a lot of things different. It is what it is. What happened, happened. I just have to learn from it."
The eight runs allowed by Niese matched his career high. He had not issued a walk in any of his three previous starts, but forced in a run in the six-run second by issuing a free pass to ex-Met Henry Blanco.
"There are the nights that he really struggles where he just cannot make the pitch he needs to make," Collins said. "His curveball can be so dynamic. And if he doesn't get it over early, a lot of times he puts it aside because he's afraid to miss with it and goes more to his fastball. And tonight he left some balls up and on the plate and they had some good swings."
Collins said he left Niese out there longer than he might otherwise because of the shaky bullpen. The manager added that perhaps leaving Niese out there allowed him to correct some issues that will aid him going into his next start, at San Francisco.
Niese now has a 6.90 ERA in eight starts this season on standard rest, a 2.17 ERA in nine starts with an extra day of rest, and a 1.80 ERA with two-plus extra days of rest.
The southpaw said he did not think working every fifth day was a detriment to his performance. And Collins could not venture to guess why that might be the case either.
Still, the manager suggested, he may give Niese extra rest between starts soon, in part by working R.A. Dickey more frequently.
"We're going to take a look at those kind of things where -- you know what? -- maybe he needs to be backed up a little bit," Collins said about Niese. "Especially this time of year where in the past he has ran into some trouble, No. 1, physically, we've got to take a look at giving him some rest."