PHOENIX -- R.A. Dickey notched his National League-leading 14th win and the Mets beat the Diamondbacks, 5-1, Sunday to earn a split of the four-game series.
The Mets now move to San Francisco, where Jeremy Hefner (1-4, 5.40 ERA) opposes left-hander Madison Bumgarner (11-6, 3.10) in the 10:15 p.m. ET series opener.
Monday's news reports:
• Mike Baxter will be activated from the disabled list for the series opener against the Giants. Kirk Nieuwenhuis has been optioned to Triple-A Buffalo to clear the roster spot. Baxter suffered a separated right shoulder in a no-hitter-saving catch for Johan Santana on June 1. He had 57 minor league plate appearances. Nieuwenhuis struck out 36 times in his final 73 at-bats before the demotion. Read more in Newsday, the Post and Star-Ledger.
• While Baxter is returning, Frank Francisco's ETA is less clear. Francisco, who had to abort a rehab appearance with Double-A Binghamton on Saturday because of soreness on his left side, did toss a scoreless inning for the B-Mets on Sunday. He allowed a bunt single. The Mets will see how Francisco's oblique feels Monday before deciding how to proceed, Terry Collins said. Read more in the Daily News.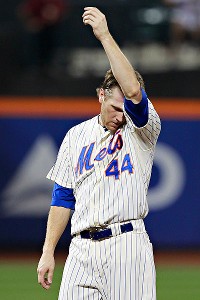 Mike Stobe/Getty Images
Jason Bay is 0-for-his-last-22.
• Collins feared Jordany Valdespin had suffered a broken toe when the rookie kicked a batting helmet in frustration after a groundout Saturday, but Valdespin turned out to be OK.
• Jason Bay's hitless streak has reached 22 at-bats, two shy of matching his career high achieved last season. Five of the six longest hitless streaks of Bay's career have come in the three seasons since signing a four-year, $66 million deal with the Mets. Former Mets hitting coach Howard Johnson (@20Hojo), who avidly watches games on TV, tweeted: "Jason has always played hard. It's just the day-to-day mind games that gets him in trouble. If they asked me for an opinion, I would send him down and let him work out of the spotlight until he got it straightened out." Bay could not be sent to the minors without his consent because of his major league service time.
Writes columnist Kevin Kernan in the Post:
The bill is due, and no one knows that better than Jason Bay. The Jason Bay Boondoggle cannot go on much longer. He has been given every opportunity to climb out of the hole he has dug for himself at the plate. Bay has not been able to get out of his own way because of injuries and incredible bouts of ineffectiveness, but if he does not show some sign of life in his dead bat over the next week he could finally find himself stuck on the bench. With the return of Mike Baxter, Bay has to get his swing going in San Francisco and San Diego. "He's got to get some production this week,'' one Mets official told The Post.
• As Tuesday's 4 p.m. ET trading deadline approaches, Scott Hairston continues to produce. Hairston went 2-for-5 with a double and two RBIs on Sunday. Afterward, he said he would like to remain a Met. That's the likelihood, as Mets officials aim to keep this season's team as competitive as possible barring a aggressive trade proposal by a contender.
• Collins said David Wright will soon get a day off. Tuesday or Wednesday would be logical, although Wright said Collins has not shared a precise date with him. Wright has started every game at third base since May 19.
• Sunday's victory was only the Mets' third in 16 games since the All-Star break. Read game recaps in the Post, Star-Ledger, Record, Newsday, Times, Journal and Daily News.
• Catcher Lucas May drove in all three runs in Buffalo's 3-2 win against Indianapolis. 2011 first-round pick Brandon Nimmo went 4-for-6 with three runs scored and two RBIs in Brooklyn's 10-5 victory against Mahoning Valley. Read Sunday's full minor league recap here.
• The Daily News reported the Mets explored a trade for Cubs catcher Geovany Soto, but talks did not progress. A potential deal could be revisited during the offseason. The newspaper added there is no current interest from teams in acquiring left-hander Tim Byrdak.
TRIVIA: Who is the last Met to have a multi-homer game against the Giants?
Sunday's answer: Hefner pitched in college at Oral Roberts University, in his native Oklahoma. He was a fifth-round pick of the Padres in 2007.