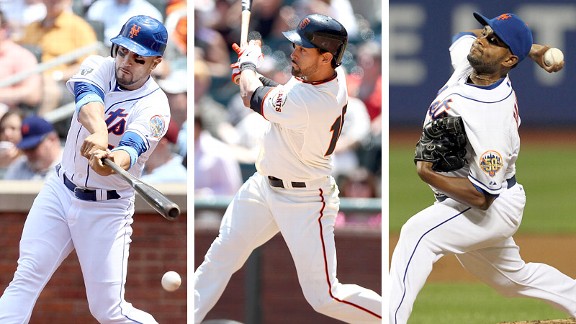 Getty Images/US Presswire
The trade involving (l to r) Andres Torres, Angel Pagan and Ramon Ramirez is largely inconsequential for both teams.
SAN FRANCISCO -- Andres Torres received a standing ovation from the San Francisco Giants crowd in his first game at A&T Park since the winter-meetings trade that sent him to the Mets along with reliever Ramon Ramirez for Angel Pagan. Torres doffed his helmet and tapped former teammate Buster Posey with his bat in recognition.
So who won the December trade?
Probably the Giants, marginally. But the reality is it likely will be an inconsequential maneuver in the annals of both teams' histories -- unlike the Zack Wheeler-Carlos Beltran swap last July, undoubtedly.
The bottom line is the Mets were prepared to non-tender Pagan last December had they not found a trade partner. Pagan ultimately settled with the Giants for $4.85 million to avoid arbitration in his final season before being eligible for free agency.
Torres is earning $2.7 million and is arbitration eligible for one more season before free agency, although the Mets certainly could non-tender him this upcoming December. Ramirez is earning $2.65 million and will be eligible for free agency after this season.
So the real question is: Are the Mets better off having allocated $5.35 million to Torres and Ramirez? Or would that money have been better spent, assuming Pagan was non-tendered, in the free-agency market last winter?
Arguably the latter.
Pagan has struggled in July, but ultimately has been relatively valuable to the Giants. He entered this series hitting .277 with five homers, 35 RBIs and 17 steals while serving as San Francisco's everyday center fielder.
Pagan has displayed some of the same maddening inconsistencies he exhibited with the Mets. He had a highlight-reel catch against San Diego's Carlos Quentin and doubled Chase Headley off first base in a tie game in the eighth inning last Tuesday. But a day later, with the bases loaded, Pagan misread a bloop and initially broke backward. The ball dropped in front of him as two runs scored against Tim Lincecum.
As for Torres and Ramirez's acquisition, Terry Collins said: "Well, both of them got off to rough starts. The fact that Andres got hurt right in the first game, because he had a good spring training, that first game going down and then coming back as quickly as he did, I'm not sure he ever got himself to where he was in spring training. Because he really did have a good spring.
"I think what we're seeing now is more of what we thought we were going to get. He's swinging the bat much better. He's never been a huge on-base guy, but what he has done in the past is when he has got on, he's run more. When he was first here, due to the leg injury, he didn't run much. Now his legs are healthy and we're seeing a much better product of the guy we expected, for sure."