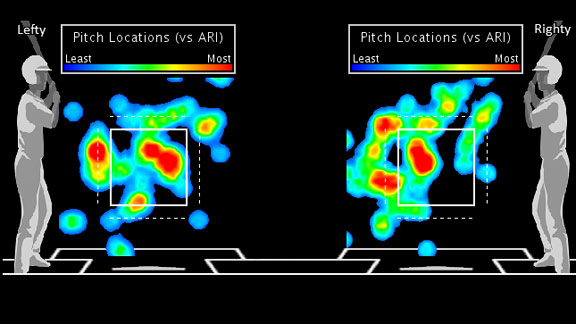 Matt Harvey worked out of the strike zone frequently with success in his debut.Pitch Location
We'll see if the Giants take a more careful approach with Matt Harvey on Tuesday than the Diamondbacks did last week.
Harvey was able to get his 11 strikeouts by throwing balls that looked like strikes, with a rising fastball, and offspeed pitches down around the toes. Seven of the strikeouts came against pitches that were out of the strike zone.
Harvey threw 67 of his 106 pitches out of the strike zone in last Thursday's game. But the Diamondbacks helped him out by swinging at 23, missing nine and fouling off 10.
The four balls put into play resulted in two infield popups, a flyout and a ground ball that Harvey fielded and turned into an out.
Matchups to Watch
The Giants have the second-lowest slugging percentage in the majors against right-handed pitching and the fourth-lowest OPS against righties. They are 34-37 against right-handed pitching this season.
The toughest hitter for Harvey will be outfielder Melky Cabrera, though Cabrera is only hitting .325 against right-handed pitching (compared to .421 against lefties).
There isn't necessarily a best option for getting Cabrera out. He is hitting .325 when an at-bat ends with a fastball and .325 when an at-bat ends with an offspeed pitch.
Cabrera's greatest strength is against pitches on the outer-third of the plate. Occasionally he'll chase one from a righty that's in the dirt, but not often.
The one means by which Cabrera has made outs when he hits from the left side is when he was jammed him down and in, though the Mets may have different ideas.
Of the 17 pitches Cabrera saw from a righty on Monday, only one was on the inner-third. Cabrera grounded out against that one in the first inning.
The most challenging among the right-handed hitters for Harvey could be infielder Marco Scutaro.
The former Met leads the majors in terms of making contact. He's either put the ball in play or hit it foul on 94 percent of his swings.
Plate Perfection
Harvey went 2-for-2 as a hitter in his major-league debut. He'll get a chance to extend that against struggling Giants starter Tim Lincecum Opposing pitchers are 6-for-37 with 20 strikeouts against Lincecum this season
Lincecum mixes up his pitch selection to right-handed hitters to be about half fastballs, half offspeed pitches. In past seasons, his offspeed pitches have been dominant, but this season, right-handed hitters are hitting .291 with a .515 slugging percentage when an at-bat ends with an offspeed pitch (they were .179 and .226 from 2009 to 2011).
Second to None
The best start by a Mets pitcher making his second career major-league appearance was a 10-inning four-hit, 13-strikeout 1-0 shutout of the Milwaukee Braves by 21-year-old Dick Selma on Sept. 12, 1965.
Jason Jacome is the only other Mets pitcher to throw a shutout in his second career appearance, a six-hitter against the Dodgers in 1994.
Harvey's teammate, Jonathon Niese, had a memorable second appearance, pitching eight scoreless innings in a 5-0 win over the Braves in 2008.
If Harvey can have another double-digit strikeout game, he'd be the first to have 10-or-more strikeouts in his first two career games since Karl Spooner of the 1954 Brooklyn Dodgers.