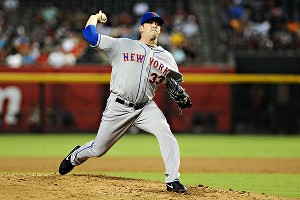 Jennifer Stewart/US Presswire
Matt Harvey makes his second major league start Tuesday night.
SAN FRANCISCO -- What does Matt Harvey do for an encore after tossing 5 1/3 scoreless innings in his major league debut at Arizona?
Tune in Tuesday at 10:15 p.m. ET, when the 2010 first-round pick opposes Tim Lincecum (4-11, 5.88 ERA) in the rookie's second major league start.
"I haven't been to these ballparks. I've never seen them," Harvey said before Monday's series opener against the Giants. "So today when I got here I walked out and kind of walked around a little bit. I'm trying to soak everything up as much as possible. I'm not taking anything for granted and am just enjoying every day."
As for matching up with Lincecum, Harvey added: "He's been so successful for so long. He's won, what, two Cy Young awards? Watching a guy like that and getting to face him is awesome. It's kind of surreal. At the same time, it's what I'm here for. I'm here to compete against those kind of guys and do everything I can to limit the damage and keep our team in winning distance."
Does he have fewer butterflies for start No. 2?
"No. I mean, it's a new ballpark. It's a new team," Harvey said. "So it's the same. Everything is all new to me until I see the same team twice. This is a new ballpark. This is a new city. I'm enjoying every minute of it and doing everything I can to try to be successful like I was last start."
Harvey obviously was amped up for his debut. His fastball averaged a gaudy 95.2 mph, and touched 97-98 mph.
Said Josh Thole, who is due to catch Harvey: "It was 98. Anytime you get a fastball with that kind of life on it, it's going to be hard to hit it. And the way his offspeed pitches are, if you can be around the zone with those, it makes his fastball that much better."