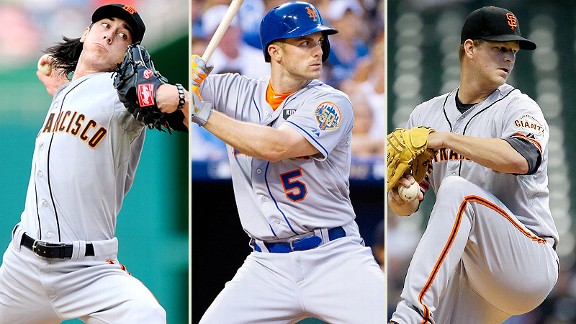 Getty Images
Tim Lincecum won't face David Wright, because the third baseman picked a day off against the Freak rather than Matt Cain.
SAN FRANCISCO -- Terry Collins said David Wright was given the choice of a day off Tuesday or Wednesday, and opted to face Matt Cain over Tim Lincecum.
That makes sense, even though Lincecum is having a rough season. Wright is hitting .429 (9-for-21) with five doubles and three strikeouts in his career against Cain, who starts Wednesday. Against Lincecum, Wright is hitting .105 (2-for-19) with no extra-base hits and 11 strikeouts.
Still, it's worth noting that it was Cain who beaned Wright on Aug. 15, 2009, so clearly there is no residual issue of being gun shy.