SAN FRANCISCO -- Scott Hairston remained a Met at the 4 p.m. ET trade deadline. And the outfielder expressed satisfaction that turned out to be the case.
"I'm kind of glad I'm still here," Hairston said. "Like I said last night, I'm having a lot of fun playing for the Mets and this is a great team to be a part of. I admit I didn't sleep as good as I thought I would last night. I kept staring at the clock. So I'll get that out of the way. But I'm just excited I'm still here."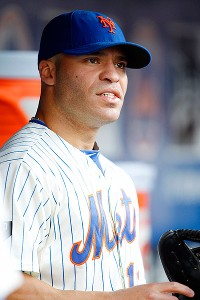 Tom DiPace/Associated Press
Scott Hairston remains a Met.
Was there ever a point Hairston thought he would be dealt?
"Yeah, possibly," Hairston said. "If you would have asked me a couple of weeks, I thought there was a chance. I never really spoke to Sandy [Alderson] about it, or anybody else. There was always a chance, and I understood that. The last few days there were a lot of rumors, but nothing was significant. So I thought the chances were pretty slim."
Hairston is earning $1.1 million this season, and is due for free agency at the end of the season. Alderson said it's conceivable the sides will discuss a contract extension in August, similar to what transpired last year with Tim Byrdak as the southpaw faced free agency -- although the GM noted Byrdak's side broached the topic a year ago.
"If Sandy would like to talk to me and my agent about that, I'm really open to that," Hairston said. "But I'm sure all of that is going to take care of itself. My job is to go out and play. But I'm open to that."
Asked if he thought Monday's two-homer game may have propelled a suitor to pull the trigger on a trade, Hairston said: "Not really. I think if it was going to happen, it was going to happen. Last night was just another game. If a team really wanted me, last night I don't think would have pushed it to where they needed me that bad."
Teammates had fun with the daily attention Hairston has been receiving.
"Scotty, you're still here!" Justin Turner playfully said across the clubhouse late Tuesday afternoon. "That's awesome bro."