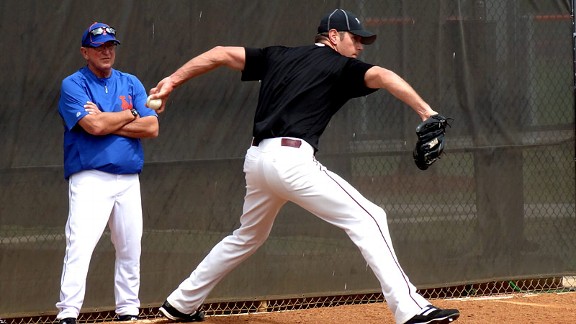 Adam Rubin
Sidearm left-hander C.J. Nitkowski auditioned for the Mets in March, but did not sign until this month.
Ex-Cub Jeff Stevens greeted new teammate C.J. Nitkowski at Double-A Binghamton with relief at being able to pass the torch as oldest player on the Eastern League club.
"Man, I was the oldest player until you got here," Stevens told the 39-year-old Nitkowski.
"How old are you?" Nitkowski asked.
"'I'm 28," replied Stevens, who since has been promoted to Triple-A Buffalo.
Said Nitkowski: "To be honest with you, when I first got here, everybody was really young and looked in really good shape. I haven't been around professional guys in a long time. They all looked kind of big to me. From playing in Asia the last four years, and being around the high school kids the last four years that I've been training with, to get here, I was taken aback for a second. But it only takes a couple of days, and then things feel back to normal."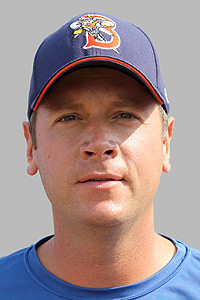 Courtesy of Binghamton Mets
C.J. Nitkowski
Nitkowski auditioned for the Mets in spring training, but the organization did not sign him. He struggled to even get tryouts with other major league clubs. So he spent the first half of the season as a volunteer coach at an Atlanta high school along with fellow former major league pitcher Paul Byrd. Nitkowski would throw a few times a week with a neighbor, who happened to be a former University of Hartford catcher. And when he reached out to J.P. Ricciardi again in recent weeks, the Mets finally opted to sign him and assign him to the B-Mets.
Now Nitkowski is a Double-A player for the first time since 1995, a year after he was drafted in the first round out of St. John's by the Cincinnati Reds.
So far, Nitkowski -- who now sports a sidearm delivery -- has made four relief appearances with Binghamton. In three innings, he has allowed one hit and two walks while striking out six. He had spent 2007 through 2010 pitching in Japan and South Korea, the final two of those years in the latter country as an overhand-throwing starting pitcher.
"I have all the confidence in the world I can be a lefty-on-lefty guy right now," he said. "But you don't want to just do one thing. You want to make sure they have confidence in you if they bring a pinch-hitter in or turn a switch-hitter around. The righty stuff, I'm still working on right now. The changeup is actually there. They really like the changeup a lot. It's got to be on the plate a little more, be more consistent with it. The breaking ball is definitely there. And I've got enough movement on my fastball."
Nitkowski acknowledged, "I'm not lighting up the radar gun anymore." But he figures a mid-80s mph fastball is more than enough. He has watched and studied Pedro Feliciano, Clay Rapada and Javier Lopez have success in recent years with the dropdown style and without eye-popping velocity. Nitkowski even sought tutoring from former Mets pitching coach Rick Peterson early last year because of Peterson's success in converting Feliciano to a sidearm delivery with the Mets.
"There were a couple of times it would be real easy to say, 'Hey, look, I'm not going to get any workouts,'" Nitkowski said. "I'm watching and seeing all the reports that so-and-so is looking for a lefty. So I had my agent call and say, 'Can we just get a workout?' No. Not even a workout. It would shock me. I understand they hear my name and probably think I'm joking. But I knew where I was and I went off of what J.P. told me in February, where he was honest with me. He thought there was something there worth looking at. The timing just wasn't right.
"So I kept pursuing it. But there were times where I was like, 'Maybe it's not going to happen.' I texted J.P. a couple of weeks ago to check in. Right before I did that, I was starting to make plans to maybe go to independent ball. I was thinking I'd go to independent ball for a month and maybe strike lightning in a bottle, and if not be done with it."
The fact that the Mets have faded from the wild-card race hurts Nitkowski's chances of appearing in the majors this season for the first time since 2005. After all, there is no need to call up a 39-year-old in September if the team is not in contention.
Still, Nitkowski believes this experience remains worthwhile.
"The goal for me was to come here and test it -- find a place where professional hitters were to test this sidearm out," he said. "So, for me, this way I don't have to go into full-time baseball retirement without wondering, 'Would I have had a chance? Was it good enough?'
"I'll be able to get my answer here."
Organization leaders
Average: T.J. Rivera, St. Lucie, .322; Eric Campbell, Binghamton, .315; Cam Maron, Savannah, .295; Fred Lewis, Buffalo, .292; Josh Rodriguez, Buffalo, .288; Josh Satin, Buffalo, .287; Wilmer Flores, Binghamton, .286; Juan Lagares, Binghamton, .284; Maikis De La Cruz, Kingsport, .282.
Homers: Aderlin Rodriguez, Savannah, 18; Cory Vaughn, St. Lucie, 17; Travis Taijeron, St. Lucie, 16; Matt den Dekker, Buffalo, 15; Valentino Pascucci, Buffalo, 14.
RBI: Aderlin Rodriguez, Savannah, 71; Wilmer Flores, Binghamton, 61; Dustin Lawley, Savannah, 58; T.J. Rivera, St. Lucie, 58.
Steals: Alonzo Harris Jr., St. Lucie, 28; Fred Lewis, Buffalo, 18; Juan Lagares, Binghamton, 17; Matt den Dekker, Buffalo, 16; Cory Vaughn, St. Lucie, 16.
ERA: Hansel Robles, Brooklyn, 2.04; Luis Mateo, Brooklyn, 2.08; Tyler Pill, St. Lucie, 2.35; Michael Fulmer, Savannah, 2.51; Rafael Montero, St. Lucie, 2.52; Rainy Lairy, Brooklyn, 2.72; Luis Cessa, Brooklyn, 2.78; Gabriel Ynoa, Brooklyn, 2.79; Collin McHugh, Buffalo, 2.95; Cory Mazzoni, Binghamton, 3.24.
Wins: Zack Wheeler, Binghamton, 10; Gonzalez Germen, Binghamton, 10; Rafael Montero, St. Lucie, 10; Cory Mazzoni, Binghamton, 9; Tyler Pill, St. Lucie, 8.
Saves: Fernando Cabrera, Buffalo, 18; T.J. Chism, Savannah, 16; Adam Kolarek, Binghamton, 16; Adrian Rosario, Binghamton, 14; Robert Carson, Buffalo, 10.
Strikeouts: Zack Wheeler, Binghamton, 117; Collin McHugh, Buffalo, 114; Matt Harvey, Buffalo, 112; Rafael Montero, St. Lucie, 105; Tyler Pill, St. Lucie, 95.
Short hops
• Savannah pitching coach Frank Viola will be excused to head to London this weekend, with minor league pitching coordinator Ron Romanick temporarily filling Viola's role with the Gnats. Viola's Olympian daughter Brittany is due to compete in the 10-meter platform diving event Aug. 8 and 9.
• Bradley Marquez, the Mets' 16th-round pick in 2011, is due to head to Texas Tech in coming days. Part of Marquez's signing arrangement allows him to continue to play college football. Marquez, a 19-year-old center fielder, is hitting .269 (7-for-26) in eight games with Kingsport. Marquez is a wide receiver from Odessa, Texas.
• Jenrry Mejia, reverting to a rotation role despite ultimately projecting as a reliever, tossed 57 pitches in three innings in his first start with Buffalo since June 9. Facing Indianapolis, Mejia allowed one run on four hits, three walks and a wild pitch while striking out three.
• Lucas Duda has started four games in right field and one game in left field since a demotion to Buffalo. He is hitting .143 (3-for-21) with one RBI in five games. Kirk Nieuwenhuis is 2-for-5 with a double and three strikeouts since joining the Bisons.
• Right-hander Logan Verrett, last year's third-round pick from Baylor, made his Florida State League debut Sunday with St. Lucie. Verrett limited Lakeland to two runs in 6 1/3 innings in a no-decision. He had posted a 3.06 ERA in 11 starts with Savannah.
• Left-hander Steven Matz, the Long Island native whose first pro appearance was delayed until this season because of a slow recovery from Tommy John surgery, has made three straight scoreless starts for Kingsport. Matz has limited opponents to five hits and eight walks while striking out 23 in 18 innings during that span.
Matz, from Stony Brook, isn't the only Long Island product with a sizable scoreless streak intact. Reliever John Mincone has allowed only one run in 20 2/3 innings with the Brooklyn Cyclones this season. Mincone, who graduated from Half Hollow Hills East High School, has tossed 17 1/3 straight scoreless innings. Mincone, who turned 23 last week, originally was drafted by the Cubs in the 11th round in 2009, but ultimately was released. He pitched in the independent Frontier League last season.
• Miguel Batista, who was released by the Mets and signed a minor league deal with the Braves, made his Triple-A Gwinnett debut Saturday at Charlotte. Batista, 41, allowed two runs on five hits and two walks while striking out three in a 65-pitch effort spanning five innings.
• Right-handed reliever Erik Turgeon, released from Binghamton with a 7.40 ERA, signed with the Pirates and has been assigned to high-A Brandeton. A University of Connecticut product, the Mets originally drafted Turgeon in the 25th round in 2008.
• B-Mets infielder Michael Fisher retired.
• Left-handed reliever Robert Carson made his Triple-A debut Friday. He recorded his first International League save two days later. St. Lucie closer Adam Kolarek, an 11th-round pick in 2010 out of the University of Maryland, moved to Binghamton and earned his first Double-A save Tuesday.
Adam Rubin's farm report appears Wednesdays during the regular season