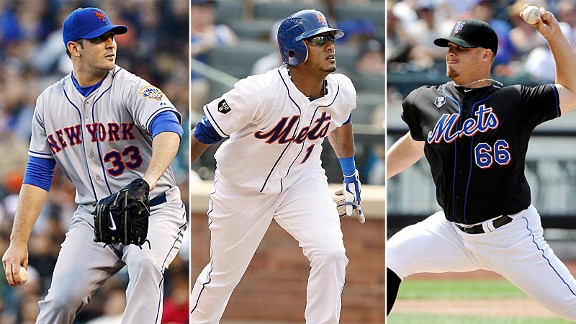 Getty Images
Matt Harvey, Jordany Valdespin and Josh Edgin were impact performers in a rough July for the Mets.Rather than dwell on the value (or the lack thereof) of some of the Mets' key players during their 7-18 July, let's take a closer look at the performance of three of their rookies- Matt Harvey, Josh Edgin, and Jordany Valdespin.
Matt Harvey
The reviews on start No. 2 in the Matt Harvey era may not be as glistening as those from his debut, but he was once again very solid.
Matt Harvey
First 2 starts
He set the record for the most strikeouts by a Mets pitcher in his first two starts with his 18. He has gotten a two-strike count on 28 hitters and retired 25, with the only three who reached doing so via walk.
The Giants proved to be a little less willing than the Diamondbacks to chase offerings out of the strike zone, but for the most part, Harvey avoided solid contact. He netted seven ground balls and allowed only two line drives on the 12 balls hit, better than the 3-to-6 ground-to-air ratio from his first start.
At this stage, among the things to watch for from Harvey moving forward is his changeup location.
He threw 19 changeups to the Giants on Tuesday and 10 of them were in the upper-third of the strike zone or higher. That pitch is intended to drop rather than float high. The typical righthander throws only about 15 percent of his changeups to the upper-third.
Josh Edgin
Edgin showed promise out of the bullpen and has earned the confidence of Terry Collins as a result. His 16 strikeouts, four walks, and one home run allowed produced an FIP of 1.98, and the difference between that and his 2.70 ERA can basically be explained by a .400 batting average on balls put in play.
Most Strikeouts
First 10 Career Innings with Mets
Source: Elias Sports Bureau
Edgin has struck out 12 of the 23 left-handed hitters he's faced, five with a fastball that has gotten as high as 95 miles-per-hour.
The others came via a nasty slider that breaks down and away. Edgin has been very efficient in putting lefties away with that pitch in two-strike counts. He's thrown it 10 times to a lefties and gotten seven strikeouts and a flyout.
The flaw in his game is that nine of the 20 righties he's faced have reached, five on hits and four on walks.
A stat that could bode well over time is that Edgin is able to get right-handed hitters to hit the ball on the ground. Of the 10 balls hit by righties, seven were ground balls.
Jordany Valdespin
Valdespin began to get more playing time in July because of his hot and timely hitting. But he hasn't completely rid himself of the bad habits that may cause him trouble down the road.
The good for Valdespin was that his fly balls had a little bit more muscle to them this month. He hit 18 fly balls and line drives, five of which went for home runs. In the first three months of the season, he had hit 29 flies and line drives and only two left the ballpark.
Jordany Valdespin
2012 Season
The good things happened for Valdespin as he showed a little more plate discipline over a three-week stretch.
He cut back on his rate of chasing pitches, and found a sweet spot swinging at offerings over the outer-half.
However, in the last week of the month, he reverted back to that which got him trouble in his initial stints with the team.
The chart above and to the right shows the contrast between Valdespin's successes and failures.