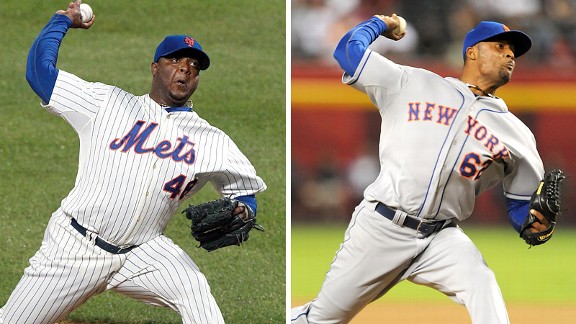 Getty Images
Frank Francisco has been activated from the DL, although Elvin Ramirez may be spared a demotion.
SAN DIEGO -- Frank Francisco rejoined the Mets on Friday. He originally appeared to poised to replace Elvin Ramirez, but Terry Collins said pregame Friday the Mets were debating sending an unspecified reliever to the DL instead. Tim Byrdak did not join teammates on the field pregame, and has been dealing with a right knee issue for some time.
Francisco had been on the DL with a left oblique strain since a June 22 appearance against the Yankees.
He made five rehab appearances with Double-A Binghamton.
Francisco said Friday he remains bothered by tightness with his right lat after appearances. Collins said he may not be able to use the closer more than two straight days. Francisco believes the lat issue has been caused by compensating for the injury on his other side. He tore his right lat in 2010.
"I have some soreness in my lat," Francisco said. "I've been dealing with that."
Bobby Parnell officially was 4-for-6 in save chances in Francisco's absence, although even that is slightly misleading. Parnell was credited for a hold when he was pulled from Monday's game in San Francisco in the ninth inning. The Mets were unable to protect a two-run lead, although they won in extra innings.