SAN DIEGO -- Carlos Quentin dislodged the baseball from Josh Thole's glove on a play at the plate, allowing the tiebreaking run to score in the seventh inning, and the Padres beat the Mets, 3-1, Friday night at Petco Park. R.A. Dickey fell to 14-3 despite limiting San Diego to four hits in seven innings on '80s night at the ballpark, which included the Mets wearing throwback uniforms.
"I got a horrible angle coming round third because I'd gone straight into the bag," Quentin said. "He got the ball early. It was a hard play, but I obviously wasn't trying to cause any damage to him. I'm just hoping the ball comes loose for the run, and that's exactly what you saw."
Jeremy Hefner (1-4, 5.52 ERA), a fifth-round pick by the Padres in 2007, opposes right-hander Edinson Volquez (7-7, 3.51) at 8:35 p.m. ET today.
Saturday's news reports:
• The Mets activated Frank Francisco from the disabled list for Friday's series opener, but rookie Elvin Ramirez was spared a demotion. Tim Byrdak instead landed on the DL with left shoulder soreness. The severity of Byrdak's injury will be better known Monday, when he is scheduled to undergo an MRI once the Mets return to New York. The responsibility now falls on Josh Edgin as the lone southpaw in the bullpen. Terry Collins is wary of overuse, as was the case with Byrdak, who has an MLB-high 56 appearances.
Francisco, meanwhile, is not feeling perfectly. He had spent six weeks on the DL with a left oblique strain, but now his right lat is bothering him. Francisco said he tore that muscle in 2010, and figures he has tweaked it by compensating for the injury to his other side. Collins is not sure Francisco can pitch more than two straight days.
Asked if Francisco's health remained a concern, Sandy Alderson quipped: "Who knows? It's been an ongoing saga -- 'I'm OK to pitch, but ... fill in the blank.' I think you've got to make the [DL activation] decision based on how the player is feeling, and whether he feels he's ready to pitch. In this case, he thinks he's ready. So we're ready to roll him out."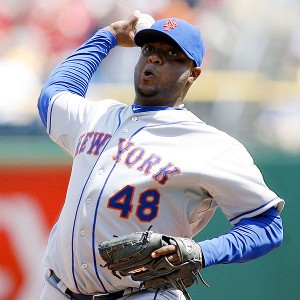 Charles LeClaire/US Presswire
Frank Francisco was activated from the disabled list Friday, but his right side is nagging him.
Read more in the Post, Star-Ledger, Times, Record and Newsday.
• Johan Santana is scheduled to pitch three innings in a rehab game Sunday with the Brooklyn Cyclones. Alderson said the likely scenario is Santana will face the Braves next Saturday at Citi Field. Read more in the Star-Ledger and Daily News.
• Kirk Nieuwenhuis suffered a torn plantar fascia in his right foot in Friday's Triple-A Buffalo game. It is not yet clear whether Nieuwenhuis will require surgery.
• Jeurys Familia was roughed up while lasting only 2 2/3 innings and Wally Backman was ejected after a toe-to-toe argument with the opposing manager. But Josh Satin had four hits, including a three-run homer, and Buffalo beat Syracuse, 13-7.
Backman told Amy Moritz in the Buffalo News about the root of his ejection:
"The one thing that I would say is don't insult my intelligence in the game. I watched it happen in the series before where players were giving location to hitters. And don't insult my intelligence. I've played the game way too long. I know everything about the game. That's what they've been doing. That's what they've done. We put a stop to it the last time we played and I had to say something tonight. It was just. The game of baseball has some integrity to it. Especially in the United States. It might not be that way in other places at times. But here we have some integrity in the game, and I expect the game to be played fair and the right way.
"I watched the catcher do it twice. I watched other guys do it. There's a couple of guys that don't do it. I don't play that game. There's integrity to the game. When those things happen, I've got a problem with it. I won't let somebody play me into being stupid. I know the game very well. I know all the things you can do in the game to show location, to show signs and all those types of things. And if you get caught, you stop. If you don't stop then we have a problem. That's where we had a problem tonight."
Read Friday's full minor league recap here.
• Read game recaps from the Mets' 3-1 loss to the Padres in the Post, Times, Record, Newsday, Star-Ledger, Daily News and San Diego Union-Tribune.
• Writes columnist Kevin Kernan in the Post:
The Mets have many issues, but at the top of the list is their little catching problem. Josh Thole has regressed this year, and he had a dreadful game last night in a 3-1 loss to the Padres at spacious Petco Park. R.A. Dickey was at the top of his knuckleball game but it was all for nothing. The Padres scored three runs on four hits. Call it Thole's Troubles. It has been a difficult year for the young catcher and it was a difficult night for the Mets, who simply could not do the basics. Without baseball basics, the Mets have no chance. If they make a couple of mistakes, they are dead in the water.
The Mets don't have a top catching prospect within striking distance of the majors. They drafted Kevin Plawecki out of Purdue University last month, but it's a long way from Brooklyn to the majors. Similarly, they handed switch-hitting catcher Jose Garcia out of Venezuela a year ago, but he's only 17 and in the Dominican Summer League.
• 2012 first-round Gavin Cecchini, who left Wednesday's game with Kingsport after getting hit in the hand with a pitch, tweeted that he underwent X-rays on a finger on Friday to determine if a fracture occurred.
• Collins said the Mets now do not plan to use Dickey on short rest during next week's homestand, although it may be instituted shortly after that. The Mets list the matchups for the upcoming Mets-Marlins series at Citi Field as Jon Niese vs. LHP Wade LeBlanc on Tuesday, Chris Young vs. RHP Nathan Eovaldi on Wednesday and Dickey vs. RHP Josh Johnson on Thursday. Jose Reyes has a career-high 22-game hitting streak active as his second trip to Queens as a visiting player looms.
• Hefner joined Thole in having started and then closing a Twitter account. Hefner had tweeted this week: "By the way I am a Christian and absolutely love Chick-fil-A!" -- which unleashed plenty of reaction given the national issue ongoing. Hefner told Mike Kerwick in the Record: "I don't need that distraction. Whether I was right or they were right or whoever was right, it's just unnecessary. ... They can have their beliefs and their opinions. It's fine. But I'm very aware that my opinion probably wasn't popular. You know what I mean? But I have the right to have my beliefs as well."
• Teddy Mitrosilis caught up with Zack Wheeler just before the top prospect departed Binghamton for Triple-A and Sunday's scheduled International League debut against Syracuse. Writes Mitrosilis at ESPN.com:
San Francisco restricted Wheeler to three innings or 50 pitches, generally, at low Class A Augusta in 2010. Occasionally they'd allow 85 pitches when he started, but the club held him to 58 2/3 innings that summer, placing priority on intangible growth instead of tangible results. Wheeler, the strong young man and earnest prospect, resisted this, of course. He had more to give, more to prove. "He got upset because he didn't want to be babied," said Steve Kline, Wheeler's pitching coach at Augusta. "But we wanted him to focus on the mental side: Studying hitters, watching tape and watching the games closely."
• Brian Costa in the Journal looks at how the Mets policed Jordany Valdespin's behavior as a rookie in San Francisco.
TRIVIA: Out of which college did the Padres draft Mike Baxter in the fourth round in 2005?
Friday's answer: Current Mets Jason Bay, Baxter, Scott Hairston, Rob Johnson and Young have played for the Padres, while Hefner exclusively played in the minors in that organization until this season.