SAN DIEGO -- Jeremy Hefner's rotation days appear over for the time being, considering Johan Santana is expected to come off the DL next Saturday to face the Braves. In fact, Terry Collins said Hefner should be ready to contribute in the bullpen by midweek against the Marlins at Citi Field, especially since the right-hander tossed only 74 pitches Saturday.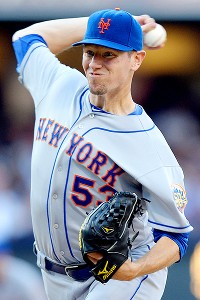 Jake Roth/US Presswire
Jeremy Hefner, likely headed to the bullpen, departed the rotation on a high note.
This much is true, though: Hefner left a positive impression as a rotation fill-in, so much so that Collins said he would not hesitate to use Hefner as a spot starter if the Mets ultimately chose to employ an occasional sixth starter to give Chris Young or Santana extra rest. (That's not the intention for the time being. If anything, R.A. Dickey might pitch on short rest later this month.)
"No question," Collins said. "If we need a start, he's got it."
Hefner, facing the team that originally drafted him, and for which he pitched for five seasons in the minors, limited San Diego to one run on five hits in six innings in the Mets' 6-2 win. He went 1-1 with a 3.57 ERA during this mini-stretch of three starts.
"I hope he knows that I can compete and that I'm going to give him 100 percent every time," Hefner said about Collins. "Regardless of what happens with Johan coming off the DL and stuff, I'm here for the team. Johan's a way better pitcher than I am, so if it comes down to that, we'll see what happens, but I just try to go out and give 100 percent.
"I think I held my own, especially being a rookie and learning kind of on the fly."
As for facing the Padres, who drafted him in the fifth round in 2007, Hefner added: "It was fun. It was sweet. I know a bunch of those guys still, and can call them friends. That was fun. That was a lot of fun."