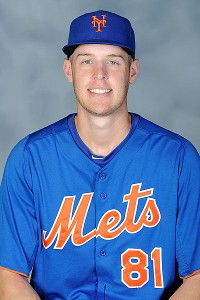 Courtesy of New York Mets
Zack Wheeler
SAN DIEGO -- Zack Wheeler's Triple-A debut on Sunday has been rained out in Buffalo.
The game will be made up as part of a doubleheader Monday, but it will be held in Syracuse. The twinbill will start at 5 p.m.
Wheeler will pitch Game 1 of the doubleheader, with Jenrry Mejia handling Game 2.
The Mets had tried to ensure Wheeler's International League debut was at Buffalo's home ballpark.