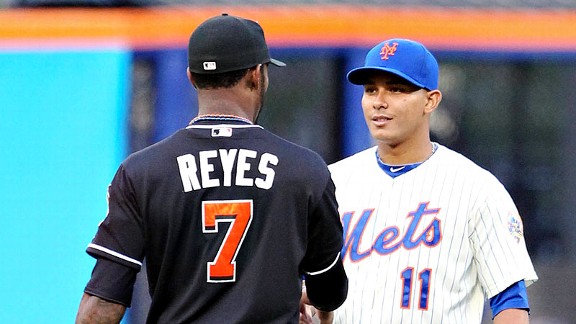 Anthony Gruppuso/US Presswire
Ruben Tejada and Jose Reyes meet again when the Marlins visit Citi Field on Tuesday.
SAN DIEGO -- Jose Reyes arrives Tuesday at Citi Field with a career-high 24-game hitting streak and as Miami's No. 3 hitter.
He also arrives with the complexion of the Marlins far different than when he signed during the winter meetings for six years, $106 million. Hanley Ramirez, Omar Infante, Gaby Sanchez and Anibal Sanchez all were dealt in the week before last Tuesday's trade deadline, in the Marlins' latest fire sale.
SHORT STACK UP
A look at how Jose Reyes and Ruben Tejada statistically compare this season.
"I'm happy for him," said Ruben Tejada, who will take his own career-high hitting streak, 11 games, into the series. "He started off a little bit slow."
Tejada has done quite nicely as Reyes' successor, and with a $491,000 salary.
"We knew defensively he was going to be fine," Terry Collins said about Tejada. "We certainly didn't expect what he's done offensively -- even though he was hurt for a while, but playing every day, getting on base and leading off. I mean, I certainly had no expectations at the beginning of the season that he'd be a leadoff hitter for us. He's done a tremendous job. He'll have a tough at-bat where somebody looks like maybe they overmatch him. And the next time up, he's going to put a good swing on it.
"What I've seen this year is what I heard when I first got to this organization -- that his maturity is way beyond his years. We're seeing that now more than I did last year, because he's in the lineup every day. You see the fast adjustments that he makes on a daily basis."
Collins acknowledged Tejada would have been buried had Reyes re-signed with the Mets. The manager believes Tejada would have been the second baseman, and Daniel Murphy would have been pushed to a utility role.
"We really never discussed it too much, because I stayed out of the Jose Reyes thing. But certainly in my mind had Jose been back here, Ruben would have been the second baseman," Collins said. "And then Murph would have had to be that guy, probably you would have seen him play some outfield in spring training, so that we could have the benefit of getting his bat in the lineup. Playing first, third and the outfield, that's probably where he would have fit."
Collins said the next step for Tejada is to improve his base-stealing ability. He'll never be Reyes, but the manager figures Tejada can up his steal total to 15 or so a season just through better leads. Tejada was caught stealing after a game-opening single Sunday. He is 1-for-3 in steal attempts this season, whereas Reyes is 27-for-33.
Collins wanted Tejada to spend most of last offseason in Port St. Lucie, but Tejada balked and spent his winter in Panama. He reported on time to spring training, which Collins portrayed as late.
Tejada said he will comply this time. He plans to spend November and December training at the same Garden City, L.I., facility where Reyes, Pedro Beato, Cam Maron and assorted other farmhands from the New York area train. He will head home to Panama for a little bit, then arrive at spring training early. (Tejada actually should miss time during spring training for the World Baseball Classic.)
"He's got to do the preparation side of getting a better lead, getting a better jump," Collins said. "One of the things that [baserunning coach] Tommy Goodwin and I have been talking about, which we wanted to do last winter, is to try to get him to Florida early to really work on the speed side. Not that we're going to make this guy real fast, but that extra 12 to 15 inches that he can start off with, first-step quickness, I think will help him steal some bases. I think that's what he could be is a 15-stolen-base guy -- pick our spots, pick counts."
Said Tejada: "It's part of my game, so I have to work on that."
Tejada said he exchanges texts with Reyes two or three times a week.
"I told you guys when I came here, I don't try to compare with him or something like that," Tejada said. "He's a different guy, a different game. I know my game."