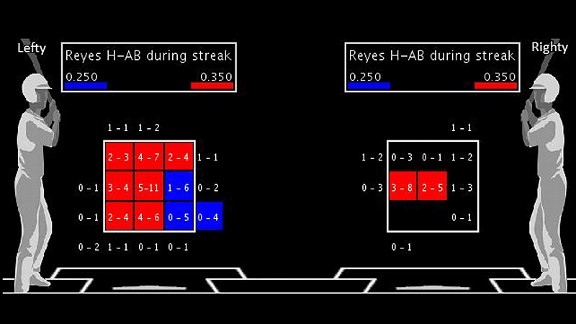 A look at Jose Reyes' hot and cold zones during his hitting streak
The history
Reyes enters this series with a career-best 24-game hitting streak -- the longest by anyone this season, and the fourth-longest in Marlins history. (Luis Castillo set the pace with a 35-gamer in 2002.)
Jose Reyes
2012 Season
If Reyes was still with the Mets, he would be tied with Hubie Brooks (1984) and Mike Piazza (1999) for the third-best hitting streak in Mets history.
The performance
Reyes has a .371/.408/.619 slashline during the streak, with 36 hits, eight doubles, two triples and four home runs.
It's comparable to, though not yet as good as, the 40-game stretch Reyes had from May 16 to July 2 of last year, when he had 70 hits and a .398/.437/.585 slashline prior to his first hamstring injury.
Reyes has thrived even more since moving to the No. 3 spot in the batting order, with Carlos Lee hitting behind him. He's hitting .413 with four stolen bases in 11 games in the 3-hole.
He doesn't necessarily have a signature moment during this hitting streak, both because the Marlins have struggled so much, and because most of his damage has come early in games.
Reyes is 17-for-39 with four home runs in the first three innings of games during the streak. He's 8-for-29 and without an RBI from the seventh inning on.
Reyes is excelling against the highest-thrown pitches. Those thrown to the upper-third of the strike zone during the streak have been tagged for 14 hits and three home runs, and been taken for five walks.
His batting average against that section of the strike zone is .519, with the bulk of that damage done as a left-handed hitter.
Reyes has also made up for the lack of ground-ball success he had earlier in the season.
During the streak, he's 10-for-31 (.323) when hitting a ground ball. Prior to it, he was reaching base on ground balls 23 percent of the time.
How do you get him out?
Reyes has been vulnerable throughout 2012 when a left-handed pitcher has worked him away. This is particularly true against offspeed pitches.
Jose Reyes vs "Soft-and-Away"
vs Left-Handed Pitchers
Those sorts of pitches were not an issue for him in any way last season.
The chart on the right compares Reyes' results against those pitches from 2011 and 2012.
Don't be surprised if Jonathon Niese targets that area tonight. He got Reyes out twice on outside pitches when they met on April 26.
Reyes has similar issues against the outside pitch when facing a right-handed pitcher. Should there be a late-game matchup with Bobby Parnell or Frank Francisco, expect them to work him similarly to how a lefty would.
Reyes is hitting .523 during the streak when a righty throws him a pitch over the middle-third of the plate or comes further inside than that. He's 4-for-23 against pitches on the outer-third or off the outside corner.
One other weakness
For the second straight season, Reyes has not fared well at converting ground balls into outs. The Marlins have had defensive issues with the left side of their infield this season.
Reyes rates fourth-worst among the 32 shortstops with the most innings played this season, with -13 Defensive Runs Saved. His biggest issue? He's below average at turning balls hit into the shortstop-third base hole into outs.
Baseball Info Solutions, which categorizes defensive plays into 30 categories of Good Fielding Plays (GFP) and 50 categories of Defensive Misplays & Errors (DMs), has Reyes with 32 GFPs and 39 DM&Es this season. The latter matches his total in 135 more innings in 2011.
During his hitting streak, Reyes has a Good Play/Misplay & Error ratio of 6-to-6.
Elias Sports Bureau Stat of the Day
Elias tells us that Reyes' streak is the longest streak for a reigning league batting champion since Wade Boggs had a 25-gamer for the 1987 Boston Red Sox.
It's also one shy of the longest by a player after leaving the Mets. Jeff Kent had a 25-game hitting streak for the Astros in 2004.