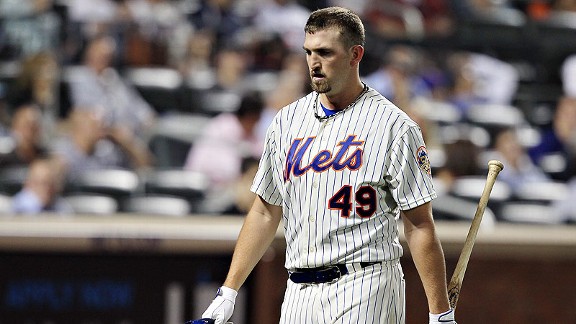 Mike Stobe/Getty Images
Mets starter Jon Niese struck out with the bases loaded in the fifth.It's one inning that continues to haunt Jon Niese.
The lefty will have outings like Tuesday against Miami, when he'll throw scoreless frames in five of his six innings, but it's the one frame where he can't stop the bleeding that ultimately defines his outing. Tuesday, it was the fourth, as he allowed four runs in a 4-2 loss.
"It's frustrating. I made some pretty bad pitches, I hung my curveball on like three consecutive guys which really hurt me," Niese said after falling to 8-6. "That's been my Achilles' heel this year, giving up those big innings. That's something I have to work on."
Entering Tuesday, in each of the past three games in which Niese had allowed at least four earned runs, big innings had been his undoing. On July 27 against Arizona, he allowed six of eight runs in the second. July 8, it was four runs in the first and three in the seventh. Back on June 16, three of the four runs he yielded vs. Cincinnati came in the first.
Against Miami, he fell apart in the fourth inning. Four singles in the first five batters gave Miami a 2-0 lead, but the dagger came with two outs. Facing catcher John Buck with the pitcher on deck, Niese allowed a double which plated two and proved to be the difference. Five of Miami's eight hits against Niese came in that inning.
"A couple of those balls weren't hit very good and I thought Jon was pitching good and I thought he could get Buck out easy," Mets manager Terry Collins said. "I didn't think there was an issue with that. Again, he just didn't make pitches when he needed to."
Niese had a chance to help himself as he batted in the fifth with the bases loaded and two outs with the Mets trailing 4-2. He already had singled, and led the Mets pitching staff with a .206 average entering the game, so Collins allowed his pitcher to get some hacks.
In what proved to be the Mets' best chance to tie the game, as the team did not put a runner in scoring position the rest of the night, Niese went down looking. He pitched one more inning before getting pulled as he fell to 1-5 in nine career starts against the Marlins.
"It's pretty good (outing) beside poorly executing those pitches in the fourth inning," Niese said. "I hung those curveballs, which I would have executed them better, perhaps if I did, the inning would have been a lot different. It is what it is. I have to get better at eliminating those big innings and the outcome will be different."
PARNELL OK: Collins checked on Bobby Parnell in the seventh after the flame-thrower was only tossing 89-91 mph to start the inning. Parnell eventually amped up the velocity and threw a perfect frame. The reliever said he wasn't focused on dialing it up that inning.