Chris Young surrendered first-inning homers to Jose Reyes and Giancarlo Stanton, then a second two-run shot in the fifth to Stanton, and the Mets lost their ninth straight home game, 13-0 to the Marlins on Wednesday.
The Mets, who again dropped to a season-worst five games under .500, last won at Citi Field on July 7. Their home losing streak is the longest since they also lost nine straight in the final days of Art Howe in 2004, at Shea Stadium. The franchise record is a 15-game home losing streak in 2002, in the final days of Bobby Valentine.
THE SKIDS
The Mets' current nine-game home losing streak matches the sixth longest in franchise history.
The Mets suffered their most lopsided shutout defeat since losing to the Yankees, 15-0, on June 14, 2009, in a game in which Johan Santana was thumped for nine runs in three innings in the Bronx. It was the second-largest home shutout defeat in franchise history, trailing only a 16-0 loss to the Braves on July 2, 1999 that included infielder Matt Franco surrendering a homer to Gerald Williams and a crowd of 51,979 mostly remaining on hand for postgame fireworks.
"When you get beat like this tonight, it's one of those games you just check off the calendar and get ready for tomorrow," Terry Collins said.
The Mets dropped a season-high 10½ games off the NL wild-card pace.
As for the nine-game home skid, Collins said: "You remember last year we didn't play good at home. It was a huge concern of mine last year, due to the fact the ballpark was so big, and the kind of game we played, where we ran the bases and we didn't have a lot of power. And we just didn't play good here. Right now, you know, the ballpark is reconfigured. We had confidence playing here the first half. Right now there's nothing we do that's right. So this is when you cinch up your belt, reach inside, find out what you're made of, find out who wants to compete the last 50 games at the end of the season, because those are the guys you're going to want on the team."
The Mets try to avoid getting swept in a 12:10 p.m. matinee today as R.A. Dickey (14-3, 2.82 ERA) opposes right-hander Josh Johnson (7-7, 3.85).
Thursday's news reports:
• Despite playing with a sore right hand, Reyes delivered a game-opening homer to extend his career-high hitting streak to 26 games, the longest in the majors this season, and the longest by a player after leaving the Mets, topping Jeff Kent's 25-game streak with the Astros in 2004. It also is the longest streak by a reigning batting champion since Joe DiMaggio ultimately posted a record-setting 56-gamer in 1941. Reyes matched Emilio Bonifacio (2011) for the second-longest streak in Marlins history. He trails only Luis Castillo's 35-game streak in 2002.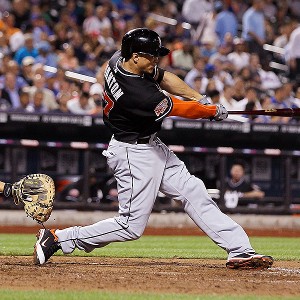 Jim McIsaac/Getty Images
Giancarlo Stanton crushed two homers Wednesday, in his second game since returning from knee surgery.
Stanton (4-for-5, 4 RBIs) joined Alex Rodriguez as the only players in MLB history with three 20-plus homer seasons before turning 23, according to the Elias Sports Bureau.
Garrett Olson was charged with four runs while recording only one out in relief in his Mets debut. Olson is not a true lefty specialist -- lefties hit .270 against him in Triple-A, with righties hitting .272. So the Mets eventually could promote converted sidearm lefty C.J. Nitkowski, who is making a comeback at age 39. Nitkowski allowed three hits and a walk in in 1 2/3 innings Tuesday night with Buffalo at Lehigh Valley. In two Triple-A appearances since a promotion from Binghamton, lefties have two hits and one strikeout in seven plate appearances against him.
Young surrendered seven runs in 4 1/3 innings as his ERA swelled to 4.87.
"Maybe that's part of coming off the surgery," Young said, referring to his procedure to repair a torn anterior capsule on May 16, 2011. "It just some nights takes a little bit longer to get loose. Tonight it did."
Read game recaps in the Post, Star-Ledger, Newsday, Miami Herald and Daily News.
• Marlins manager Ozzie Guillen told Joe Capozzi in the Palm Beach Post that Stanton will get Thursday's matinee off, since the slugger was just activated from the DL on Tuesday after recovering from July 8 arthroscopic surgery on his right knee. Meanwhile, Guillen plans to restore ex-Met Heath Bell to the closer's role, writes Clark Spencer in the Miami Herald. Bell has tossed nine scoreless innings spanning 10 relief appearances since the All-Star break, allowing three hits and three walks while striking out eight.
• Santana threw a bullpen session Wednesday at Citi Field and reiterated he is prepared to return from the disabled list to face the Braves on Saturday. Collins again suggested the Mets may give Santana extra rest at points in September to avoid any question about the southpaw's health come spring training 2013.
Against the Braves, Matt Harvey will oppose left-hander Paul Maholm in Friday's series opener, followed by Santana against right-hander Kris Medlen, then Jon Niese opposite right-hander Ben Sheets on Sunday. Read more on Santana in the Post, Record, Daily News and Newsday.
• Brian Costa in the Journal chronicles the fall of Jason Bay, who is now a platoon player -- meaning he may only start Friday against Maholm during the remainder of the homestand. Writes Costa:
What happened to Jason Bay? "There's really no answer," [hitting coach Dave] Hudgens said. "There is no answer." Plenty of players have seen their production decline as they age. Some lose bat speed. Some cannot overcome the effects of injuries. And Bay, who will turn 34 next month, has had his share of ailments. But baseball has never seen an erosion of ability quite like this. For the first seven years of his career, Bay compiled a .519 slugging percentage, the 21st-best mark in the majors over that span (minimum 1,000 games played). But in 2½ years with the Mets, through Tuesday, Bay has slugged .371. Among players who slugged .500 or better in their first seven major-league seasons, it is the largest decline in history over seasons eight through 10, according to Stats LLC. In other words, no player who has displayed so much power in his first seven years has ever produced so little over the following three.
Although Mike Baxter and Jordany Valdespin started at the corner outfield spots Wednesday with Bay sitting, Collins predicted Lucas Duda would see at-bats in the not-too-distant future in left field. Duda, after a 3-for-25 start upon his demotion to Triple-A, since is hitting .381 (8-for-21) with two homers -- although he was hitless in four at-bats while drawing two walks Tuesday with the Bisons. Read more in the Post.
• Tim Byrdak continued to weigh whether to proceed with surgery to repair a torn anterior capsule in his pitching shoulder, a procedure that Santana and Young each underwent in the past two years. Either way, Byrdak's career is endangered, since he turns 39 this offseason. Collins has taken responsibility for Byrdak's extreme usage contributing to the shoulder injury, although the manager noted Byrdak relished the frequent appearances. Writes Andrew Keh in the Times:
Stephen Fealy, an orthopedic surgeon at the Hospital for Special Surgery in Manhattan, said there was a danger associated with trusting competitive athletes to evaluate their health. He likened pitchers to long-distance runners, who can ignore, willfully or not, physical warning signs. "They get the runner's high, the serotonin and endorphins kick in, and they feel fine," Fealy said. "The next day, they are down with a stress fracture." Fealy said the medical field was still playing catch-up as it tried to study the demands of the sport.
It is accepted that there is a certain amount of uncertainty attached to even the most widely accepted pitch counts and innings limits. Bradford Parsons, an assistant professor of orthopedics at the Mount Sinai School of Medicine, agreed, and said it was even hazier for relievers because most medical studies focused on starters who pitched in a controlled setting, with consistent rest and regular, finely tuned schedules. "With relief pitchers, it's even less known what the right number of pitches they can throw day-to-day is and how many days they can go without a day off," Parsons said. "I think that's why certain injuries can be frequent in relievers -- that data is even more arbitrarily set."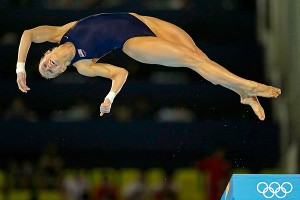 Charlie Riedel/Associated Press
Olympian Brittany Viola advanced to this morning's 10-meter platform diving semifinals before being eliminated.
• Savannah pitching coach Frank Viola watched in person in London as his daughter Brittany advanced past the preliminary round Wednesday in 10-meter platform diving at the Olympics. She placed 14th in the opening round. The top 18 advanced to this morning's semifinals. She then failed to qualify for the finals.
"I'm a nervous wreck," the ex-Met Viola told the Associated Press before the competition began. "It's a lot easier going out for Game 7 knowing you have the ball in your hand and you're in control. In the stands, you're a parent and have no control."
• Right-hander Tyler Pill, the Mets' fourth-round pick in 2011, was named the Florida State League player of the month. Pill went 5-0 with a 1.55 ERA in July.
Right-handers Luis Mateo, Hansel Robles and Gabriel Ynoa and left-hander John Mincone have been selected to participate in Tuesday's New York-Penn League All-Star Game at Mahoning Valley. Ynoa, who turned 19 on May 26, is the youngest starting pitcher in Cyclones history. Mincone graduated from Half Hollow Hills East High School on Long Island.
MLB announced the suspension of right-hander Nicolas Debora of the Dominican Summer League Mets for 50 games for a positive test for metabolites of Stanozolol, a performance-enhancing drug.
Lehigh Valley beat Buffalo, 5-4 in 12 innings, when Fernando Cabrera tossed a game-ending wild pitch in his third inning of relief. Starter Jeurys Familia surrendered four runs, but only one earned, on five hits and two walks while striking out seven in six innings. Read Wednesday's full minor league recap here.
• Ike Davis, whose charitable efforts now can be followed on Twitter (@theikedavis), is hosting a philanthropic event Sept. 9 at 7 p.m. at City Winery (155 Varick St.). Country music singer Lee Brice will perform. The event benefits research into childhood cancer. Davis lost close friend Mike Lio to Ewing's sarcoma on the eve of the first baseman's major league career.
The Johan Santana Foundation holds a charity event tonight at Del Posto on W. 10th Ave. to increase awareness about melanoma and to raise money for a sports complex in his Tovar, Venezuela, hometown. The event is sold out, but you can bid on items online here.
The Mets welcomed youth from Tuesday's Children and the Cory Lidle Foundation to Citi Field on Wednesday. Read more in the Post and Daily News.
TRIVIA: Who has the longest hitting streak in Mets history?
Wednesday's answer: Reyes started 20 games as the No. 3 hitter for the Mets in 2010, under Jerry Manuel.