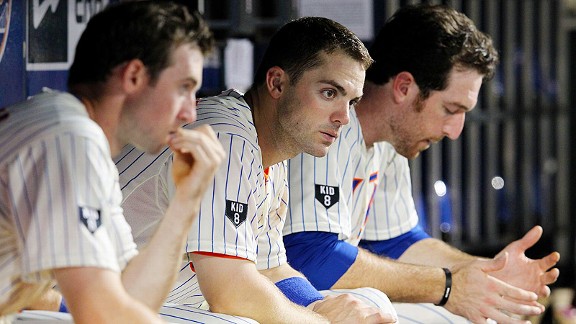 Brad Penner/US Presswire
David Wright and the Mets haven't won at home since before the All-Star break.The Mets have now lost nine straight home games -- but Wednesday night's was the worst of them all.
The Miami Marlins handed the Mets their second-most lopsided shutout at home in team history, winning 13-0 in front of an announced crowd of 26,193.
"When you get beat like this tonight, it's one of those games, you just check it off the calendar and get ready for tomorrow," said Mets manager Terry Collins.
The Marlins got on the board early against Mets starter Chris Young. The third batter of the game, former Met Jose Reyes, slammed a solo homer into the second deck in right field. Two batters later, after a walk to Carlos Lee, Giancarlo Stanton homered to left field, putting Miami in front 3-0.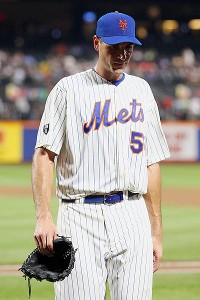 Brad Barr/US Presswire
Chris Young lasted just 4 1/3 innings on Wednesday.Young held the Marlins in check from there until the fifth inning, when Lee's two-run single and another two-run shot by Stanton sent Collins to the mound and Young to the showers.
"The first one was a pitch kind of up and away that he pulled and hit out," said Young, when asked about the Stanton home runs. "The second one was a slider that didn't have as much depth as it needed to, and he crushed it."
Young, who was coming off his best start of the season last week in San Francisco, lasted just 4 1/3 innings in this one, giving up seven runs on seven hits, with four strikeouts and three walks (one intentional).
"It's just frustrating, the inconsistency is hard to take," said Young, who is now 3-6 with a 4.87 ERA on the season. "But I'll show up tomorrow, keep working hard and be prepared for my next one."
On offense, the Mets mustered just five hits against Marlins starter Nate Eovaldi and two relievers -- four singles, and a double by Jordany Valdespin. They had plenty of scoring opportunities thanks to six walks by Eovaldi. But they could never capitalize, stranding at least one runner in each of the first seven innings of the game.
"We didn't pitch, we didn't hit -- that's what happens when you just have one of those stinkers really," said David Wright, who had two of the Mets' five hits on the night.
The Mets have now gone more than a month without a victory in Queens. Their last one came way back on July 7, prior to the All-Star break, a 3-1 victory over the Cubs.
The last time the Mets lost nine in a row at home? You have to go back to August and September of 2004, the Mets' final season under manager Art Howe.
The Mets finished 20 games under .500 that year, at 71-91. Right now they're only five games under .500, 53-58. But if they don't start winning games at Citi Field again, their final record in 2012 could be just as ugly.
"I think our preparation's good," Wright said. "I just don't think we're executing when it comes time -- at 7 when game time starts, we're just not executing."
"This is when you cinch up your belt, reach inside, find out what you're made of, find out who wants to compete the last 50 games of this season," said Collins. "Because those are the guys you're gonna want on the team."