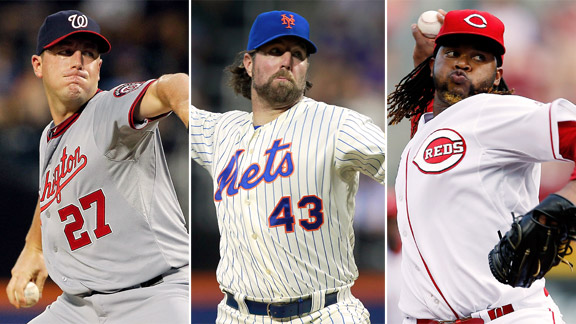 Getty Images
NL Cy Young contenders include (l. to r.) Jordan Zimmermann, R.A. Dickey and Johnny Cueto.The plan to use R.A. Dickey on short rest this month is off the table with the Mets having faded from the race.
Still, after the knuckleballer tossed a complete game in the Mets' 6-1 win against the Marlins on Thursday afternoon, Terry Collins said he reserves the right to use Dickey on three days' rest at the very end of the season if an extra start or two would nudge him to 20 wins.
The Mets have not had a 20-game winner since Frank Viola in 1990.
Dickey picked up win No. 15 against Miami as the Mets snapped their nine-game home losing streak. He now has four complete games this season, matching the most by a Mets pitcher since Dwight Gooden had seven in 1993. Johan Santana (2010), Pedro Martinez (2005), Al Leiter (1998) and Bret Saberhagen (1994) also had four.
THE CONTENDERS
A statistical comparison of starting pitchers who are NL Cy Young candidates.
Dickey estimated he has 10 or 11 starts remaining in 2012 under normal circumstances.
Collins said he would be tempted to have Dickey pitch on short rest a couple of times at the end of the season if it increases the knuckleballer's likelihood of winning the Cy Young Award -- even after the manager received flak for abetting Jose Reyes' batting title last season by pulling him after a leadoff bunt single in the final game last year.
"That truly is one of the real good questions I've been asked," Collins said. "And I will tell you: R.A. Dickey does not want the perception that he's pitching for the Cy Young Award. That's not the perception he wants out there, by any stretch of the imagination. The only thing he wants to do is help this team win. And if that means he has to pitch more, he's willing to pitch more. But he doesn't want it to look like, 'Hey, look, we're just running him out there to win the Cy Young Award.' That's not how he's wound up.
"But will I? I certainly might. Yes.
"I think he deserves it. I think he deserves that shot.
"I thought Jose Reyes deserved to win the batting title last year, too. I got criticized for that. I may get criticized for this. You never know."
Dickey, for his part, said he is perfectly willing to pitch on short rest if it is about making a postseason push. He suggested he would not be as enthused if it were to pad stats for a postseason award or a 20-win milestone.
"I would not want to be on three days' rest purely to win more games," he said after limiting the Marlins to one run on five hits while striking out 10 and walking none. "If we can claw back in this thing and they think that I give our team the best chance to win, or a good chance to win, then I'm willing to do that, and have voiced that. We'll see where that goes. But they know how I feel about it. I think physically I'm able to do it.
"I don't want to do it for the sake of doing it. I don't want to do it because that would give me more chances to win more games for a Cy Young. You may or may not get that. No one can tell the future. And I don't think that's the right way to do that, either.
"Awards or numbers of games won, that needs to be an organic thing. It just needs to happen as a part of the process of going out there every day and preparing your body to throw 200-plus innings and giving your team a chance to win every time out."