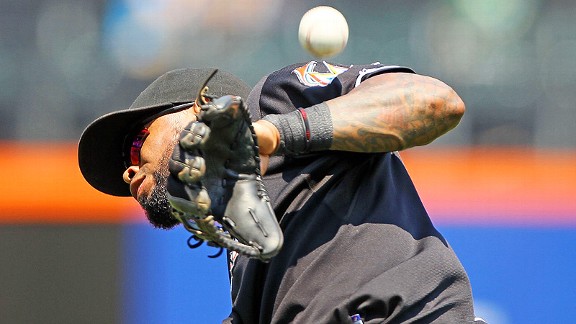 Jim McIsaac/Getty Images
Jose Reyes' fourth-inning drop on David Wright's shallow fly allowed his ex-teammate to reach base.Jose Reyes lost a ball in the sun and a 26-game hitting streak Thursday afternoon.
Reyes retreated on David Wright's fly ball to shallow left field in the fourth inning, but flubbed the catch while fighting the sun. Wright was credited with a double and ultimately scored the go-ahead run on a double by Andres Torres en route to a 6-1 win by the Mets against the Marlins.
Reyes twice stranded runners at third base with inning-ending groundouts against R.A. Dickey. The ex-Met went 0-for-4. His now-snapped hitting streak matched Emilio Bonifacio's 26-gamer last season for the second longest in Marlins history. Luis Castillo set the franchise record with a 35-game hitting streak in 2002.
"He wants to probably catch that so bad," Wright said. "He's not going to give me anything. The last thing he wants to do is to lose a ball in the sun and let me get a hit."
As for the hitting streak, Reyes said: "It's over. I have to give some credit to Dickey. He was unbelievable. I'll take 26 straight any day. So that was a good run by me. He's very impressive. The good thing about him, he throws that knuckleball for a strike. It's not like he is all over the place. He comes right after you with a lot of movement."
Terry Collins insisted there was no pleasure derived from snapping Reyes' hitting streak, as is the case when a long hitting streak is snapped for any other player.
"Look, we have no ill feelings toward Jose Reyes," Collins said. "This guy played his heart out for us, and especially for me. I was rooting for him all the time. I didn't want him to get any hits today. I didn't want him to get any hits yesterday. But that's because we're playing them. Tomorrow, I hope he gets some hits. He gave us all that effort.
"You know, last year we broke up (Andre) Ethier's 30-game hitting streak and I never heard it mentioned in the clubhouse at all."
Reyes continued to be booed by Mets fans, although it did not appear venomous.
"To be honest with you, I didn't pay much attention to it," Wright said about the reaction to his ex-teammate. "It's fun going against him, but he's wearing a different uniform, so I hope that the fans don't necessarily pull for him."