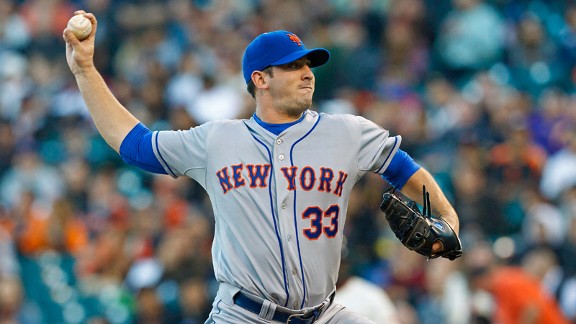 Jason O. Watson/Getty Images
Matt Harvey makes his Citi Field debut on Friday, against the Braves.Mets officials purposely had 2010 first-round pick Matt Harvey debut on the road to limit the pressure and distractions.
His first Citi Field start finally has arrived, though. Harvey will oppose left-hander Paul Maholm in Friday's series opener against the Braves, in the rookie's fourth major league outing.
PITCH SELECTION
An outing-by-outing look at the percentage of each pitch Matt Harvey has thrown, with average velocities. Source: FanGraphs
Harvey, who hails from Mystic, Conn., estimated he will have 100 family members and friends on hand.
"That's probably pretty accurate," Harvey said. "A couple of high school teammates. I'm sure everybody my mom works with is going to want to come. And I've got a bunch of friends coming up.
"It's another day. It's another pitching experience. It's a new ballpark to pitch in for me. I know it's home, and that's the extra excitement. I get to pitch in front of the Mets fans and my family and I'm really excited about that."
Harvey is 1-2 with a 3.86 ERA, although he deserved a better fate in San Francisco, when he limited the Giants to three runs (two earned) in six innings and suffered a loss.
He said he deviated too much from his fastball in his latest road start, when San Diego clobbered him for five runs on eight hits, including a pair of homers, in five innings.
Harvey threw fastballs on just 53.1 percent of his pitches in that start, compared with 65.1 percent in his debut in Arizona and 58.2 percent against the Giants.
"I don't think I used my fastball enough," Harvey said. "Getting ahead is the biggest part of pitching. That's going to be my focus tomorrow, is getting ahead and doing everything I can to get early outs and just try to keep the game within winning distance."
Said Terry Collins: "I'm very anxious to see him pitch tomorrow with all that's gone on. He said the other day one thing he's been looking forward to is pitching tomorrow. He's going to have 100 people here. It's going to be a special night for him to pitch his first game at home in front of his friends and family. I'm anxious to see it. I really am. Because there's going to be a buildup, and I want to see how he handles it."
Harvey, by the way, is living in the city, not commuting from his family's Connecticut home. He did visit his parents Monday night for dinner, on an off-day after the Mets returned from their three-city West Coast trip.
"I kind of surprised them," Harvey said. "They were pretty excited about that."