Matt Harvey surrendered a two-run homer to Jason Heyward in the first inning, Josh Edgin surrendered a two-run homer to Dan Uggla in the eighth, and Paul Maholm tossed a three-hit shutout as the Braves beat the Mets, 4-0, Friday night at Citi Field.
Johan Santana (6-7, 3.98 ERA) returns from the disabled list for Saturday's 7:10 p.m. start opposite right-hander Kris Medlen (2-1, 2.37).
Saturday's news reports:
• Dillon Gee told ESPNNewYork.com it was "unrealistic" to expect him to return this season. Gee nonetheless said he is recovering well from July 13 surgery to patch a damaged artery in his pitching shoulder.
• In his second-to-last series at Citi Field, Chipper Jones was scratched from Friday's start with back spasms, which he blamed on the bed in his Manhattan hotel room. Juan Francisco subbed at third base and made a pair of stellar defensive plays -- backhanding Andres Torres' leadoff grounder in the first despite cheating in for a bunt, then ranging to his left to retire Rob Johnson and end the eighth. Read more in Newsday and the Atlanta Journal-Constitution and Daily News.
• Terry Collins expects Santana will be capped at 90 pitches tonight. The southpaw only threw 38 pitches in Sunday's rehab start with Brooklyn, but tossed additional pitches off a bullpen mound after departing the game at Coney Island to up his count to a number comparable to an ordinary start.
Brian Costa in the Journal notes Santana had not been the same pitcher since his June 1 no-hitter. Writes Costa:
Pitching coach Dan Warthen said the difference was evident in Santana's overall demeanor. "There were four or five starts where it just wasn't Johan," Warthen said. "He generally lights up a room. He has enough energy to light up this whole city on game day." After the no-hitter, Warthen said, "He was having the kind of energy that would light up a 20-watt bulb." The fatigue led to reduced arm speed, Warthen said, which led to lapses in control. Santana initially dismissed the ankle injury. But two more dreadful outings convinced the Mets he needed a breather. Now, they will find out if it was enough.
Santana's fastball hit 90 miles per hour during a rehab start in Brooklyn last weekend, a benchmark he hadn't reached in a while. "I think you will see pretty much what you saw early in the season the rest of the year," Warthen said. "I think we'll see 87 to 90 miles per hour. I think we'll see better control. But I think you're going to see a stronger, probably more consistent high-end velocity guy next year. I don't think you're going to see the whole Santana package until next year."
Read more in Newsday, the Star-Ledger and Record.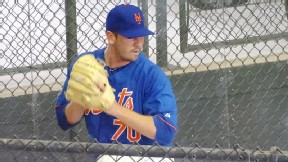 Adam Rubin
Matt Harvey lamented walking five in his Citi Field debut.
• Harvey retired the final nine batters he faced in a six-inning outing, but the 2010 first-round pick expressed disappointment with his early control, which led to five walks, matching the most he has surrendered at any level as a professional. He downplayed having extra energy in his Citi Field debut, since it came in his fourth major league start.
"You only have your debut once," Harvey said. "Obviously I was really excited to be here in New York and pitch in front of the Mets fans, and my family especially. But there was no extra nerves or adrenaline. It was another game and I had to do my job and go out and try to win."
Collins complimented how Harvey rallied from the early difficulties. "I was very he impressed, especially after the second inning. He's at almost 60 pitches in the second inning and really pitched well after that," the manager said. "I hope he got a lot out of this game. He's got all the talent he needs to compete up here. All he has to do is make pitches."
Collins expressed disappointment with the two-run homer Edgin surrendered to Uggla. The manager likened it to a homer Edgin surrendered to Jones on July 13 at Turner Field, in Edgin's major league debut. Collins' point: Edgin needs to be cautious with righty batters, especially when the stretch of batters he is being asked to face includes the lefty-hitting Heyward, lefty-hitting Freddie Freeman, Uggla and then the lefty-hitting Francisco.
"That's exactly what it reminded me of," Collins said about Jones' homer in Atlanta during the second-half-opening series. "And I reminded him of it. You've got three lefties you've got to get out. You can't let the one guy who can beat you, beat you. And that's the exact same situation that Chipper got."
Said Edgin about Collins' message: "You've got a lefty on deck. Don't give Uggla anything to hit. I mean, I gave him one right down the middle."
Read game recaps in the Post, Times, Newsday, Star-Ledger, Daily News and Record.
• A pair of Mets farmhands flirted with no-hit bids that came up slightly short. Brooklyn's Hansel Robles carried a perfect game two outs into the eighth. His Cyclones teammates actually were no-hit into the ninth inning, but won 1-0 on Phillip Evans' walk-off RBI single. Meanwhile, Binghamton's Mark Cohoon took a no-hit bid into the seventh inning and ultimately posted his fifth career shutout in a 5-0 win against Harrisburg. Read Friday's full minor league recap here.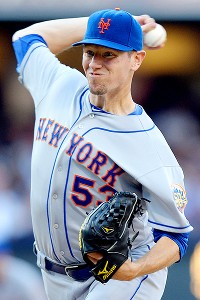 Jake Roth/US Presswire
Jeremy Hefner is giving Twitter another shot.
• Jeremy Hefner, who quit Twitter after backlash to sharing his thoughts about the Chick-fil-A boycott, has started a new account. It's @jeremy_hefner53.
• Mike Puma in the Post reports Lucas Duda may return to the majors before rosters expand Sept. 1, although Puma described Duda as "sulking" while with Buffalo after the demotion.
• Ike Davis sat Friday against the lefty Maholm. Collins wanted to get righty-hitting Ronny Cedeño in at second base. And Daniel Murphy entered the game 5-for-6 in his career against Maholm, so the manager wanted to get him in the lineup at first base. Collins said Davis won't automatically sit against southpaws, but Davis is hitting only .173 against lefties this season, so the pattern could repeat itself. "Trust me, it's going to get better," Davis told Mark Hale in the Post, alluding to his 2012 production. "I don't think you're going to see a season where I'm at .216 at this point too many times."
• The Mets inked right-handed reliever Drew Carpenter, a former Blue Jay and Phillie, to a minor league deal and assigned him to Binghamton.
• Tim Bontemps in the Post profiles B-Mets infielder Wilmer Flores, who has shuttled around the infield in Double-A after previously exclusively playing shortstop in the minors with the organization.
TRIVIA: Which player did Harvey retire for his first major league strikeout?
Friday's answer: Jones' first two career homers came against the Mets at Shea Stadium, against Josias Manzanillo on May 9, 1995, then against Pete Harnisch a day later.