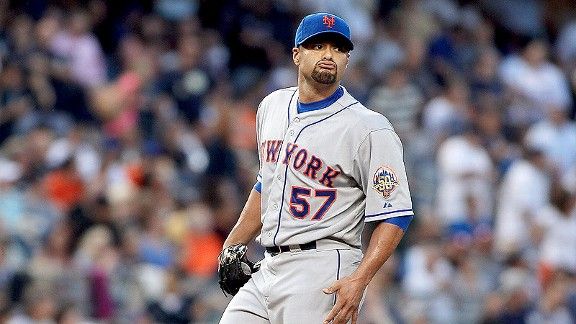 Getty Images/Mike Stobe
Johan Santana has had a rough go since his no-hitter, with a 6.54 ERA in eight startsIssues to Fix
What were some of the reasons for Santana's struggles? Here's a closer look at two:
He couldn't get lefties out: The chart on the right shows Santana's struggles against left-handed hitters since he threw his no-hitter.
That was evident when the Braves tagged him for four hits in his last start against them, including Freddie Freeman's three-run home run on a changeup thrown over the heart of the plate.
LHB vs Johan Santana
2012 Season
He couldn't wriggle out of jams: In the early part of the season, Santana was able to fight his way through trouble and get big outs to avoid major damage.
But when the going got tough, Santana couldn't escape. He gave up seven home runs to the 81 hitters he faced with men on after throwing the no-hitter, compared to just two against the first 102 he saw in such situations.
How do you get Reed Johnson out?
The Braves recently obtained outfielder Reed Johnson, whose history against Santana is one of dominance.
Johnson basically fills the role of injured outfielder Matt Diaz, who is 19-for-37 in his career against Santana.
Highest BA vs Johan Santana
Minimum 10 AB
Johnson is 16-for-31 with five extra-base hits for his career against Santana. Johnson went 3-for-3 with a homer against Santana on July 6.
Johnson is a .309 hitter against left-handed pitching over the last four seasons, including .311 this season.
Johnson's tendencies this season don't match those of the previous three. This season, he has thrived on pitches on the inner half (20-for-52 with misses on 25 percent of his swings) from lefties and struggled against pitches on the outer-half (8-for-38 with misses on 27 percent of swings).
He was the opposite in terms of his success the previous three seasons.
Johnson fares well against lefties because he's among the best hitters at hitting an offspeed pitch from them. The best strategy in a two-strike count may be to try to throw a fastball.
He's made 12 outs and has just one hit against two-strike fastballs from lefties this season.
Dominance of Dan Uggla
On the other end of the spectrum, Dan Uggla is 1-for-21 with 12 strikeouts against Santana. He's 0-for-20 with two walks since homering in his first at-bat against Santana.
Expect Uggla to get a lot of changeups. Over the past four seasons, he's 0-for-7 against Santana and has seen changeups on more than half the pitches thrown to him.
Johan Santana
2012 Season
Home is Sweeter
Santana has not allowed a run in his last two starts at Citi Field against the Braves, including his five-inning stint on Opening Day. As a Met, he's 1-2 at home against the Braves, but with an ERA of 1.39 in five starts.
Santana is 2-5 with a 4.08 ERA in eight starts for the Mets against the Braves at Turner Field, and allowed six runs against them in each of his last two starts this season.
Only one Mets pitcher has allowed six runs or more in three straight starts against the Braves: Bobby Jones in 1997.